Russo-Japan War
Stereoviews No. 101-200 (100 View Set)
W.T. Ingersoll, Copyright 1905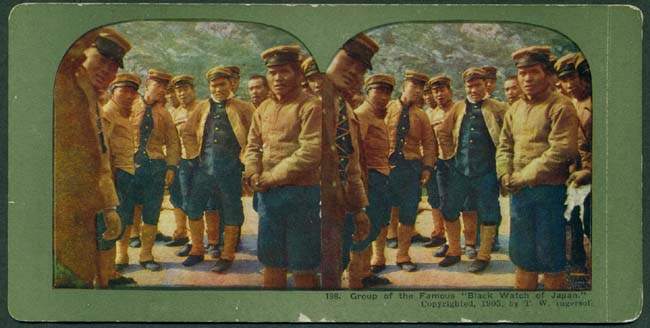 No. 198 Famous 'Black Watch of Japan'

W.T. Ingersoll:
Russo-Japan War Stereoviews, copyright 1905, color lithograph (halftone), green cards, 7 x 3 1/2 in, product code A8833, numbers 101//200, a 100 veiw set. Prominently featured in several of the views is Richard Barry (San Francisco Chronicle correspondent). The series also has views with Frederick Vickers who is described as "the Greatest of Living War Artists."
Front: Number (101~200), and short descriptive caption and "Copyrighted 1905, T.W. Ingersoll."

Back: Number and the short descriptive caption, a detailed one to two paragraph description and the number "A8833."

Examples of the Stereoviews.

Views with Richard Barry:
        
No. 133. Richard Barry and Frederick Vickers

                
No. 177. Richard Barry (War Artist) and Japanese Officers


No. 179. Richard Barry and his Chinese Boy 


No. 185. Richard Barry with group of Japanese Telegraphers 


No. 196  Richard Barry in Manchuria


        
Views with Frederick Vickers:

No. 195  Frederick Vickers Teaching how to handle a "Fractious house" 


No. 199. Frederick Vickers, "the Greatest of Living War Artists" 

        
        
Views of Lieutenant General Oshima:

No. 165. Lieut. General Oshima


No. 180. Lieut. General Oshima 

        

Views with the "Famous" Major Yamaoka:

No. 146  Japan's Famous Major Yamaoka 


No. 174. Major Yamaoka and Staff Officers



Military Views (examples):

No. 183. Loading the Osaka Baby 


No. 198  Famous 'Black Watch of Japan'



Close-up of Photo-Mechanical Color Lithograph: