~~ Japanese Traditions of Christianity ~~
M. Paske-Smith and Shuten Inouye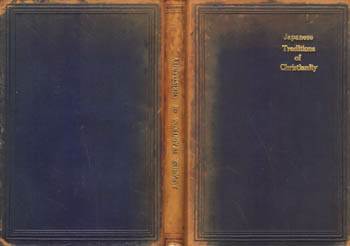 Paske-Smith, M. (H.B.M. Consul, Osaka) (editor)
Inouye, Shuten (Japanese notes):
Japanese Traditions of Christianity Being Some Old Translations from the Japanese, with British Consular Reports of the Persecutions of 1868-1872, Kobe, J.L. Thompson, printed by the Kobe & Osaka Press, Ltd., London, Kegan Paul, Trench, Trubner & Co., Ltd.,1930, 8vo, blue-green leather, gilt lettering on front cover and spine, cloth, limited edition of 25+ copies printed on handmade paper with a limitation statement, color lithographic folding map of Nagasaki and 6 black and white halftone plates (frontispiece and 5 tissue guard protected plates), 142 pp. I have examined a limited edition copy without a number but with the notation "extra author's copy." There is a Japanese language colophon and 3 pages of publisher's advertising at the back. The map of Nagasaki depicts the town as shown in an 1802 map with the sites of old Catholic churches and the route of the last of the old Catholic Processions in 1614 shown in red.
Rather than an original work, this is a compilation of various accounts of Christianity in Japan. Paske-Smith is cited as the "editor" on the title page indicating the nature of the work. The editor relies heavily on works previously published in English language publications in Japan which include The Japan Herald of 1864 and The Far East (date not specified) and Reports by the British Consul at Nagasaki (May, 1868). Major sections of the book include:
The Introduction of Christianity into Japan
The Shimabara Rebellion
The Second Christian Prosecution in 1868-1872
Translation of the Inscription on the Monument of Itakura Shigemasa (Naizennosho)
The Tomioka Monument and Translation of Inscription.
Printed Limitation Statement

Colophon at Rear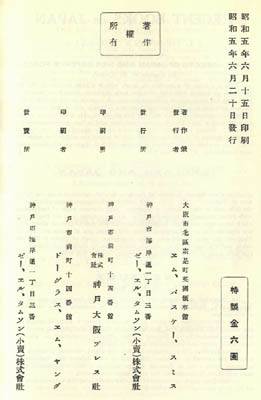 Showa 5 (1930)