~~ 1945070122 ~~
Watercolor Painting
Okinawa Shima, 1945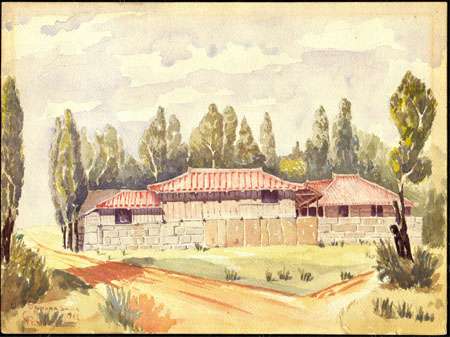 This is a watercolor painting of Okinawan homes. Two tile roof houses surrounded by a coral fence are depicted. Measures 15 1/2 x 12 in - 30.3 x 40 cm).
In the right hand corner the following is inscription is visible:
Okinawa Shima 1945
C Pentz ?
A very realistic image of an Okinawan setting apparently painted shortly after the American invasion in April of 1945.
The painting is clean. There is a lightly toned area ca 1/2 inch around all edges from previous mounting (now unmounted). Tape residue on the back. The paper is a porous textured medium thickness paper stock.