~~ Book 1866100831 ~~
Geological Researches in China, Mongolia, and Japan
During the Years 1862-1865
by Raphael Pumpelly

Condition. The book is in Good condition. Hardbound with 3/4 leather over pebbled black cloth boards with leather tipped corners. The covers and spine are heavily worn and there is a one inch tear at the side of the spine. The book is ex-library (non circulating). There are two Library handstamps and a donation handstamp inside the front cover and evidence of removal of a label at the foot of the spine. Aside from these, no other library markings or indicia. Scattered stain spots including two large ones on the title page. One page has a handwritten notation in the margin. Plates are clean. The first plate has linen tape (repair) on the back at the fold and appears to have been reduced in size. There is a bookseller's label inside the front cover ("Matsumura").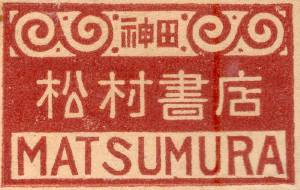 Pumpelly, Raphael:
Geological Researches in China, Mongolia, and Japan, During the Years 1862-1865, (Smithsonian Contributions to Knowledge 202) Washington City (DC), Smithsonian Institution, August 1866, 4to (9 3/8 x 12 in - 23.8 x 30.6 cm), printed by Collins, Printer, Philadelphia, 18 text illustrations (figures), Appendices 1-3 (pages 119-128), index (pages 129-143), 9 plates at the rear, 161 pp. Each plate is preceding by a one page description. Plate 1 is a fold out with cross section of land in China. Plates 2 and 6 are color lithograph maps. Plate 8 is the only one relating to Japan and it is a black and white map of Southern Yesso. The author spent the years 1862-1864 conducting geologic research in Japan, China and Mongolia. The majority of the book relates to the geology of China and Mongolia. Chapter IX , "Geological Itineraries of Journeys on the Island of Yesso in Northern Japan," is the section on Japan. It covers pages 79-108. Half of the text illustrations are in the Japan section.
Table of Contents.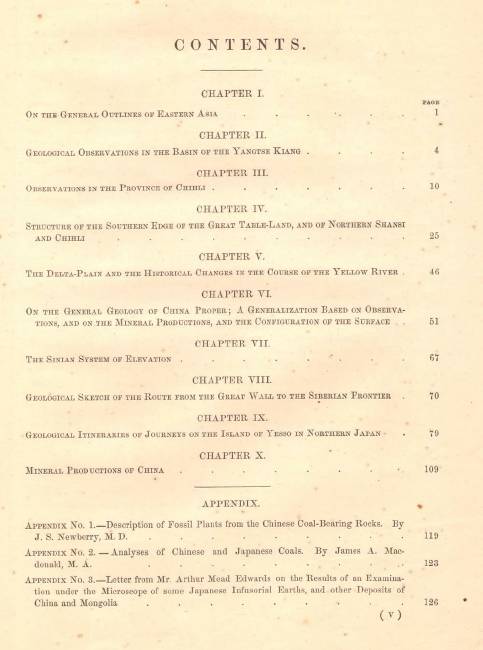 List of Figures (Text Illustrations) and Plates.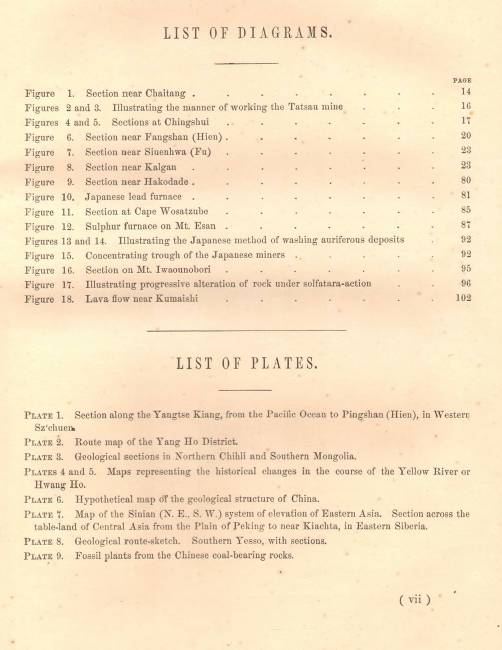 All Nine Plates:
Plate 1


Plate 2


Plate 3


Plate 4


Plate 5


Plate 6


Plate 7


Plate 8


Plate 9