~~ Book 1822051207 ~~
Le Japon
Paul Ricord & M. Breton (translator)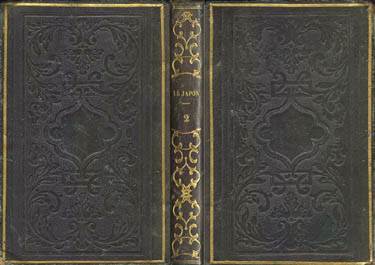 Condition. The book is in Very Good condition. The corners are bumped and lightly frayed. Very clean internally with only occasional light foxing.

Breton, M. (Jean Baptiste Joseph)
Ricord, Paul:
Le Japon ou Voyage de Paul Ricord, aux Iles du Japon, en 1811, 1812 et 1813 Sur la Corvette Russe la Diane, Pour la Délivrance du Capitaine Golownin, Traduit de L'Allemand Par M. Breton, Accompagne de planches inedites, d'apres les dessins du cabinet de feu M. Titzingh, ambassadeur hollandaise en Chine, et resident au Japon, Pairs, Nepveu, Librarie, Passage des Panoramas, 1822, 32mo (3 1/2 x 5 1/4 in - 9 x 13 cm), green cloth, blindstamped front and back boards, gilt decoration on covers and gilt decoration and lettering on spine, Volume (Tome) 2 - 214 pp. Volume 2 has 3 plates (frontispiece and 2 folding). In volume 2, behind the half-title page is found "De L'Imprimerie de D'Hautel." This a French edition with the account of the journey made by the Russian Captain Paul Ricord to rescue Captain Golownin who was held captive in Japan for 3 years. Volume 2 (Chapters IX-XVIII) deals with Japanese culture, life, commerce and industry. Ricord (Rikord) spent two years sailing the Japanese coasts in a successful effort to rescue Captain Golownin. In this set, Ricord recounts his experiences in the rescue effort and also relies on notes prepared by Golownin.
Table of Contents at the Rear

Japanese Costumes



(Plate size: 31 x 12.5 cm - 6 folds out)
Plan of the Palace at Jedo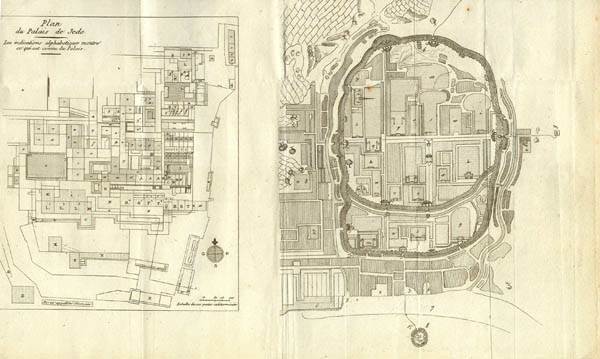 (Plate size: 24 x 14.5 cm - 4 folds out, 1 fold up)