~~ Book 1820111208 ~~
Hall's Account of the Voyage to Korea
and the Ryukyus, Italian Version, 1820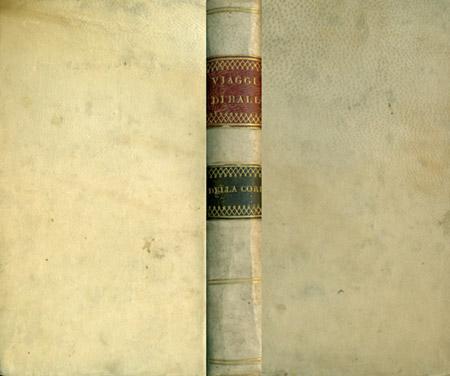 Condition. The book is in Good condition. The covers are soiled There is light to moderate foxing internally. Most pages/plates have faint damp staining in the top quarter. Two of the plates have tissue guards, the others do not. A page (free front page?) is missing before the title page.

Hall, Basil
Contarini, F (translator):
Relazione d'un viaggio di scoperte alla costa occidentale della Corea ed alla grand'isola Lu-Tsciu del capitano Basilio Hall, Milano, 1820, dalla Tipografia di Giambattista Sonzogno, 18mo (4 x 6 3/4 in - 10.2 x 17 cm), text in Italian, black and white engraved frontispiece, 5 hand colored engraved plates and one engraved fold out map at the rear, 285 pp.
The title page calls the book a "New Edition" and the preface refers to it as a second edition. This is a trade edition with signficantly reduced content and illustrations. It lackes the appendix found in the first edition. The appendix contained charts, and geological/ hydrographical/ scientific data, an abstract of the Lyra's voyage and a vocabulary of the Loo-Choo language by H.J. Clifford. The first edition contained 8 hand colored engraved plates and one black and white engraved plate. The preface states: "The present edition is confined to the narrative alone, to the exclusion of all technical and other details, not calculated to interest the general public."
This is an abridged Italian language version of Account of a Voyage of Discovery to the West Coast of Corea, and the Great Loo-Choo Island first published in 1818 in London in 4to format (here). That version contained 8 hand colored engraved plates, 1 black and white engraved plate, 5 engraved charts/maps (including 2 folding maps) and a further plate of scientific instruments. In this book 5 of the original 8 color plates are replicated. The fold out map in this book replicates the fold out map in the original version which was titled "Napakaing Roads on the SW Side of the Great Loo Choo Island" (Naha - Napha). A similar abridged English version was published in 1820 (here). That book contained only four plates and of those plates only one was hand colored. I believe that this edition (Italian edition) has the most color illustrations of all the abridged editions published.