~~ Book 1752080119 ~~
Historie Generale des Voyages
Volume 40, 1852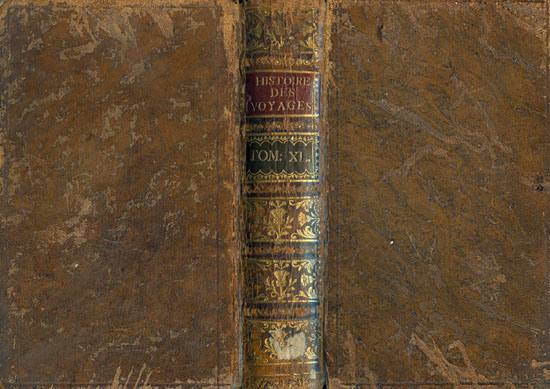 Condition. The book is in Good condition. The boards and edges are heavily rubbed with numerous scraped and gouged areas. The corners are bumped and worn. The spine is has numerous scraped areas and small splits along the edges at the head and foot. There is a large scraped area on the spine just below the fifth raised band. The inner and outer hinges are solid and the binding is solid. The pages are clean and supple with only scattered light foxing. The title page has a vertical crease down the left side. The book has only one Japan related plate. It does not have the plate "XV Armes de l'Empire & des Princes Japonois" which is referred to in the listing of plates at the rear. However, the book has 5 plates not listed in the listing of plates. These are not related to Japan. The front free pages have extensive pencil annotations.

No Author Stated:
Historie Generale des Voyages, ou Nouvelle Collection de Toutes les Relations de Voyages par Mer et Par Terre Qui ont ete Publiees Jusqu a Present...., Volume XL (Tome Quarantie'me), Paris, Chez Didot, de l'Imprimerie de la Veuve de Claude Simon, 1852 (M. DCC. LII), 18mo (4 1/4 x 6 1/2 in - 10.6 x 16.7 cm), brown full leather, five raised bands, gilt lettering decoration on spine, all edges dyed red, marbled endpapers, text in French, title page printed in red and black, 6 copper engraved plates (1 folds out), two page listing of plates (for Volumes 37-40), five page catalogue of pulisher's books, 425 numbered pages. The first page reads "Depuis le commencement du XV Sicle. Seconde Partie. Livre Second." The entire volume is devoted to Japan.
The "Avis au Relieur" at the rear shows two plates. Plate "XV Armes de l'Empire & des Princes Japonois" (page 73) and Plate "XVI Marques d'honneur, des Princes des Grands du Japon" (page 177). It does not list the other five plates found at the rear of this volume and these appear to be supplements to previous volumes. Those five plates relate to volumes on Africa.

Title Page



Plate XVI (Japan Related), folding, faces page 177

Monoies du Japon / 
Marques d'honneur quoin porte devant-les Princes et les Grands
[1 fold out, 1 fold up - 18 x 24.8 cm]


Plates (Not Japan Related) after page 418

Dinge Dan Cola Presente A Frederic Henri Price D'Orange - 
Sup. T. IV. No. III.



Chimpaneze age de 21 Mois hautde 2 pieds 
4 pouces approte d'Angola en 1738 - 
Sup T.IV. No.V.



Oiseaux de Guinne tires de Bosman - 
Sup tom. IV pag. 244 et Suivantes (9 birds)



Oiseaux de Guinne tires de Bosman - 
Sup tom. IV pag. 249 et Suivantes (10 birds)



Poiffons tires de Barbot / 
Diverses sortes de Fetiches tires de Barot - 
Sup. T. IV. No. VI. (3 fish / trees / domestic items)