Memoirs of A Life at Sea and in the Far East
R. M. Varnum, ca 1918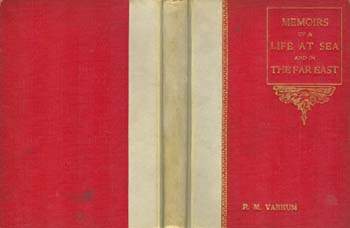 Varnum, R. M. (Reuben Mason):
Memoirs of A Life at Sea and in the Far East, Yokohama, Press of the Box of Curios P. & P. Co., not dated but ca. 1918, "For Private Circulation," vellum-backed cloth, gilt lettering and decoration on front board, large 12mo (6 x 8 1/4 in - 14.5 x 21 cm), printed on laid paper, 16 black and white half-tone plates (includes a final plate not on the listing of plates), 189 pp. The author's preface of the book concludes with "Yokohama, Japan, January, 1918." This is R.M. Varnum's autobiography. He was born in New England in 1845 and at the age of 10 made his first merchant seaman voyage. He served as a seaman on the "extreme clipper" ships and by the age of 20 was a first mate. A voyage in the China trade brought him to Yokohama in July of 1869. In May of 1872, at the age of 28, he returned to Japan to seek his fortune. Varnum was immediately hired by the mercantile company of Walsh, Hall & Co. for $800 a year with a house, mess, lights (I presume electricity) and a doctor and for the next 40+ years was a "land lubber" merchant in Japan. He managed the Walsh, Hall & Co's tea-firing operation. Varnum married and lived on the Bluff in Yokohama with his wife and family. He later became a partner in the firm that would be know as Fraser, Farley & Varnum which was in the tea business. He also served as a tea buyer for an American firm for 10 years and moved to Shidzuoka. The autobiography provides great insight into life in Meiji era Japan as well as the day to day struggles of the foreign entrepreneur in Japan. This book was privately printed by the author in Japan a few years before he left that country.


Book's Synopsis (partial listing only)

Ch 1.  My ancestry and early associations
Ch 2.  My first voyage
Ch 3.  The Civil War
Ch 4.  A real "Pampero"
Ch 5.  To Rangoon for rice
Ch 6.  Shore leave at Liverpool
Ch 7.  Penniless but light-hearted
Ch 8.  First mate at twenty
Ch 9.  Qualified for a command
Ch 10. A romance of Forty-nine
Ch 11. Fire at sea - The end f the "Lampedo"
Ch 12. I join the Brazilian Army
Ch 13. Sight seeing in Asia Minor - The Cedars of Lebannon
Ch 14. Following seas and anxious time - Glimpses of Australia
Ch 15. First visit to Japan - Return to America (starts at p. 73)
Ch 16. I Settle in Japan - Opening of Tokyo-Yokohama Railway
Ch 17. Burning of the "America - Medieval Japanese justice
Ch 18. Learning the tea trade
Ch 19. Handling a case of smallpox - wholesale hari-kiri
Ch 20. The mysteries of "brick" tea - Stories of Walsh Hall & Co.
Ch 21. Farser, Farley & Varnum - The new tea-firing plant
Ch 22. Japan at its best - An excursion to the Hakone Mountains
Ch 23. Passports for picnickers. First ladies to climb Fujiyama
Ch 24. The inception of a new industry.  Defrauded of $260,000
Ch 25. A happy holiday
Ch 26. The history of Shidzuoka - Typhoons and floods
Ch 27. Game hunting in the old days
Ch 28. Two-sworded swashbucklers - Troubles with Samurais
Ch 29. To England via America
Ch 30. War work in London
Ch 31. Homeward journey
Ch 32. Conclusion - The progress of Japan


Title Page:

Examples of Plates: