60 Selected Pictures of the Mikado's Empire
Fine Souvenir for Visit to Japan
Coloured by Hand

Hand Colored Photographs

No Author Stated:
60 Selected Pictures of the Mikado's Empire, Fine Souvenir for Visit to Japan. Coloured By Hand, ca 1912, no colophon, unstated publisher, presumed printed in Japan, large 12mo, 60 pages (printed one side only) of hand colored collotype plates from photographs, no text except for the English language caption below each picture. The book is in a horizontal format (wider than it is tall) and measures 8 3/4 x 6 1/4 in. The title is on a label which is pasted to the front board. Boards are a decorative cloth. The pages are bound at the right and then attached to the boards by a tied string. While a tourist souvenir type item, this book is more substantial than most such items and much better executed. These books are offered from time to time with different covers and slightly different pictures. I have seen these books dated between 1896 and 1920.
Sixty Hand Colored Collotype Plates in This Book
Enterance to Imperial Palace, Tokyo

Main Building Meiji Jingu (Shrine), Tokyo
Marunochi Building, Tokyo

Nihonbashi Street, Tokyo

The Enormous Bronze Torii for Shokonsha..., Tokyo
Tomb of 47 Rohnin at Sengakuji, Tokyo
Cherry Blossom at Uyeno Park, Tokyo
Kwannon Temple...at Asakusa Park, Tokyo
Kameido Temple ground...and Drum Bridge

Cherry Blossom at Koganei, near Tokyo
Cryptomeria Road, Nikko
Sacred Bridge at Nikko, 90 miles north of tokyo
Mausoleum...for the first Shogun, Iyeyasu of Tokugawa dynasty...Nikko
Kegon Fall, Nikko

Matsushima, in Inland Sea on of three noted scenes of Japan
Enormous Bog-rhubard Akita
Theatre Street, Yokohama

Sankeiyen (Mr. Hara's Private Garden) Honmoku, Yokohama
Hachiman Temple...Kamakura
The Finest Dibutsu...by train 50 minutes fro Yokohama
Enoshima Island viewed near Kamakura
Mt. Fuji from Misaka Pass
Fuji from Ohwakudani, Hakone

Mt. Fuji from Hakone Lake
Mt. Fuji from Lake Shoji
The famous Nagoya Castle....
Futamigaura, Ise
Fishing with a cormorant, Nagaragawa
Amano-Hashidate...About 80 miles from Kyoto
Shishinden Hall...Kyoto
Kinkakuji...Kyoto
Higashi Honganji Temple...Kyoto
Kiyomizu Temple...Kyoto
Chionin Budhist Temple....
Arashiyama, Kyoto
Arashiyama, at the foot of Hozu rapids...near Kyoto
Torii Avenues, Shrine of Fushimi near Kyoto
Miidera...near Kyoto
Horyu-ji, the oldest Buddhist temple in Japan...Yanato
View of the Pagoda at Nara from Sarusawa Pond
The Biggest Daibutsu in Japan...at Nara
Kasuga Shinto Temple...near Kyoto

Bronze Lanterns at Kasuga Temple, Nara
Kasuga Temple ground with tame deer...Nara
Osaka Caste....
Ajikawa (River), Osaka

Dohtonbori (Theatre Street), Osaka

Maiko near Kobe
Nanko Shrine, Kobe
Motomachi Street, Kobe

Nunobiki Waterfall...Kobe
Awajishima Island, Hyogo
Sunset, Akashi coast

Kintaikyo Lit. "Bridge of Damask Girdle,"...Suwo province
Ondo Strait, Aki
The Sacred Island, Miyajima, in inland sea....
Tomo at Bingo Province in the inland sea
Yabakei Ohita Province
Big Torii at Suwa Shrine, Nagasaki
Coaling on the ship at Nagasaki Harbour
Another Similar Book of 60 Hand Colored Collotype Plates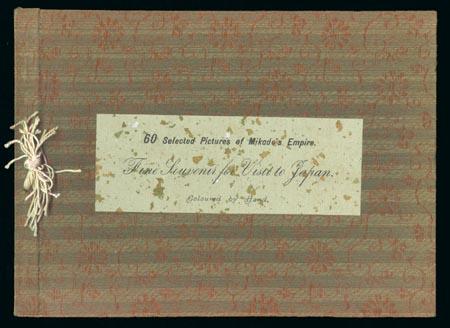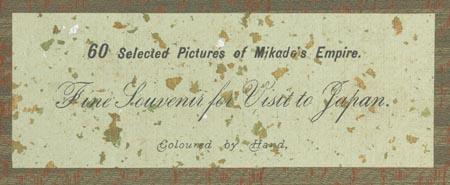 Pasted on Title Label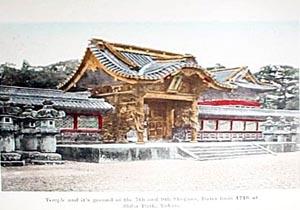 Example the Pictures
Temple at Shiba Park, Tokyo

This book is dated (approximately 1912) by the 38th picture which refers to the enthronement of the "present" emperor in 1868. That would be Emperor Mutsuhito (actually enthroned in 1867) who died in 1912. On occasion, I have seen the date of these books put at ca 1902 but don't know the basis for that.
Listing of Hand Colored Pictures:
Imperial Palace, Entrance
Temple of 7th and 9th Shoguns, Shiba Park, Tokyo
Bronze Torii for Shokonsha, Tokyo
Entrance to Uyeno Park, Tokyo
Kwannon Temple at Asakusa Park, Tokyo
Sumida River,Tokyo
Kameido Temple
Kamata Iris Garden, Between Tokyo and Yokohama
Yokohama Harbour, Customs House and Pier
Nogeyama Hill, Yokohama
Theatre street, Yokohama
Hundred steps and Motomachi street, Yokohama
Shell Fish picking, Hommoku beach, Yokohama
Hachiman Temple, Kamakura
Daibutsu, great buddha, 50 minute train ride from Yokohama
Temple of Kwannon, Kamakura
Enoshima Island, near Kamakura
Miyanoshita, hot springs, in Hakone range
Fuji from Lake Hakone
Fuji for Kawai Bridge
Fuji from Fuji River
Fujiyama from Nishinoumi Lake
Fuji from Shoji Lake
Mt Asama near Kamakura
Karuizawa, summer resort, 90 miles north west of Tokyo
Sacred Bridge at Nikko
Mausoleum of first Shogun, Nikko
Matsushima, Rikuzen province
Nagoya Castle,, Nagoya
Gegu shrine and Naigu shrine (2 pictures), Yamada
Futamiga-ura, near Yamada
Sugashima, Ise province
Pagoda at Nara
Kasuga Shinto Temple, near Kyoto
Kasuga Temple, Nara
Biggest Daibutsu in Japan, near Kyoto
Nijo Castle, Kyoto
Shishin-den Hall in the Kyoto Palace - "The enthronment of the present emperor was held here 18.68"
Kinkakuji, Gold Pavillion Temple, Kyoto
Ginkakuji, Silver Pavillion Temple, Kyoto
Oldest cherry trees in Japan, Maruyama Park, Kyoto
Kiyomizu-dera, Kyoto
New front gateway of Higashi Hongwanji Buddhist Temple, Kyoto
Arashiyama, near Kyoto
Towing a boat up the Honzu river, near Kyoto
Arashiyma, near Kyoto (different picture)
Osaka Castle
Tennoji Budhist Temple, Osaka
Suwayamma Hill or Park, Kobe
Hyogo Daibutsu, Kobe
Nunobiki Waterfall, Kobe
Beach of Akashi on Sanyo Line
Amano-Hashidate, about 90 miles from Kyoto
Korakuyen Garden, Okayama
Tomo at Bingo Province on the inland sea
Miyajima, the Sacred island
Senjokaku or Great Hall at Miyajima
Momiji-dani or Maple Valley on Miyajima island
Kintaikyo "Bridge of danask Girdle", Suwo Province
Entrance of Nagasaki Harbour