Russo Japanese War,
Fully Illustrated
Issue Vol 1, No. 2, June 1904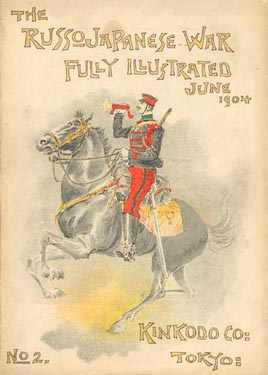 The Complete Set.
Jikemura, Major Wasuke (introduction):
The Russo-Japanese War Fully Illustrated, Tokyo, Kinkodo & Muruzen, printed by the Tokyo Tsukiji Type Foundry, foreign agents, Kelly Walsh (Yokohama), Hachette et Cie (Paris), Otto Harrassowitz (Leipez), Steiger & Co. (New York), Kegan Paul, Trench Trubner & Co (London), 10 volumes in a complete set, English language, text in double columns, 8vo, (7 1/4 x 10 1/2 in - 18.2 x 26.1 cm), 4to when bound, front paper wrap illustrated by lithograph, 1418 pages in total. First marketed as a monthly serial type paper wraps publication with issue No 1 dated May, 1904. While sold in numbers from 1-10, the pages are consecutively numbered, averaging ca 140+ pages per issue. This is a finely illustrated publication with tissue guard protected chromolithograph plates, black and white collotype plates, color halftone plates and black and white halftone plates. Almost every text page has an illustration and often more than one. Some issues contain fold-out maps. The series contains a total of 70 chromolithogrpah plates (10 are frontispieces), 5 black and white collotype plates and 180 halftone plates (some in color). The chromolithograph plates depicting scenes from the war are a highlight of the set. The series has an introduction by Major Wasuke Jikemura. While the series chronicles the Russo-Japanese War it does far more than that. It provides a basic primer on Japanese life, politics, military history and traditions covering such diverse topics as the evolution of the military in Japan, political development in Japan, the imperial family, religion, training of officers, the Bushido warrior code. Complete sets are very difficult to find. I believe that they were often consolidated into two volume bound sets and marketed by the various agents in that format. The paper wrap volumes have advertising at the front an rear. Prominent advertisers were K. Ogawa, Photo-Studio and the Tokyo Tsukiji Type Foundry.

This Issue.
Volume 1, No. 2, June 1904, paper wraps, ads at the front and back, pages 143 - 282 (140 pages total) + 26 pages of maps and plates not included in the page total.
Chapters

1.   The Early Military Development of Japan to the
       Time of the Tokugawa Shogunate  143
2.   Japan under the Tokugawa Shogunate  161
3.   The Army at the End of the Shogunate  169
4.   How the Emperor came back to Power  175
5.   The Training of the Japanese Military Officer  183
6.   How Japanese Naval Officers are trained  193
7.   Bushido  204
8.   WAR RECORD:
       Fighting on Land  215
       Fighting on  Sea  240
       Latest Fighting on Land  264
 9.   War Time Anecdotes  269
10.   General News  276

Illustrations
Sketch Maps:

Battle of the Yalu - foldout map with positions of the
armies marked in color, Japanese in blue, Russian in red
Chin-chou Peninsula
7 Colored Plates (all printed on thick stock paper):

The Empress Jingo - frontispiece (chromolithograph)


A Girl in the Genroku Age (A.D. 1700) (chromolithograph)


A Japanese School-Girl (color halftone)


Commander Hirose searching Warrant-Officer Sugino (chromolithograph)

A Fierce Battle between Japanese and Russian Cavalry (chromolithograph)


Destruction of the Manchurian Railroad by a Band of Hunhutse Robbers (chromolithograph)

Cossacks running away with a Wounded


1 Collotype ("Collodio-Type"): The Last Scene on board the Kinshu-Maru.



16 Full Page Plates (all halftone plates on glossy paper, printed in black except for the Commodore Perry plate (red):

H.I.H. Princess Fushimi

H.I.H. Kuni ("now at the front")


Lieut. General Terauchi, Minister of War
Commodore Perry meeting the Shogunal Commissioners (printed in red)
Marshal Oyama
Admiral Ito
Lieut. General Kodama and Vice-Admiral Ijuin
General Kuroki
Lieut. Generals Hasegawa, Inoue, and Nishi
Vice-Admiral Kataoka and Rear-Admiral Hosoya

Meeting of General Kuro-patkin and the Chinese Governor-General of Kirin


General Oku
Korean Special Envoy to Japan and the Reception Committee
The English and American Volunteer Nurses serving the Red Cross Society of Japan (printed in red)
Fuji Yama (printed on back of a text page)
The Russian Wounded at the Matsuyama Hospital


Colophon