The Constitution of Japan
English Translation, c1890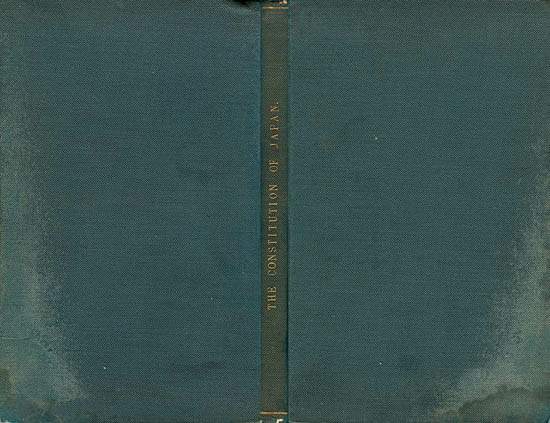 Not Stated:
The Constitution of Japan, "Brentano's Print," c1890, 8vo (5 7/8 x 9 3/8 in - 15 x 23.7 cm), green cloth with gilt lettering on the spine, all text translated from the Japanese into English, 107+ pages. This book is a compilation of the "Meiji Constitution" or "Imperial Constitution" enacted in 1889 and the associated laws and ordinance implementing the new Constitution. The book starts with the Emperor's speech regarding the Constitution. The following seven documents, translated into English, are included in this book:
Imperial Speech on Promulgation of the Constitution, 1 pp.
Imperial Ordinance Concerning the House of Peers, 4 pp.
The Constitution of the Empire of Japan, 14 pp.
The Law of Finance, 12 pp.
Law of the Houses, 22 pp.
Law of Election for Members of the House of Representatives, 28 pp.
Appendix of the Law of Election for Members of the House of Representatives, 26 pp.
The Constitution and associated laws (#2-7) are each preceded by an unnumbered one or two page translation of an affirmation of allegiance dated the 11th day of the second month of the 22nd year of Meiji (1889). The signatories to this affirmation include "His Imperial Majesty" and various ministers and officials. This book has no title page or colophon. The imprint "Brentano's Print" appears numerous places throughout the book on the back of blank pages.
The following report of this document has been recorded.
Japan, Government. Imperial speech on the promulgation of the constitution of Japan (translation) [Brentano's print], 8o

(Forty Second Annual Report of the Trustees of the Astor Library of the City of New-York, published January 14, 1891. (click here.