The Loochoo Islands
Charles S. Leavenworth, 1905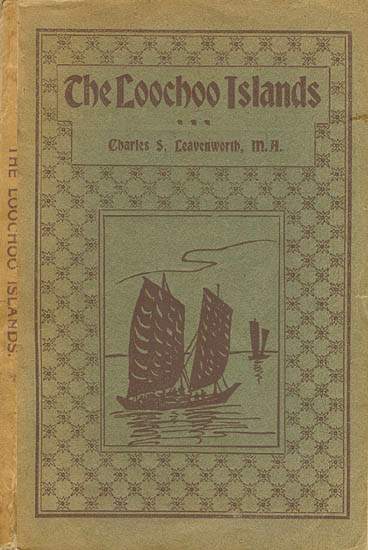 Leavenworth, Charles S., M.A.:
The Loochoo Islands, Shanghai, "North-China Herald" Office, 1905, 8vo, stiff wraps, covers in green, front cover illustrated in black and with black lettering, title on spine in black, brownish tint halftone frontispiece portrait, 23 black and white halftone text illustrations from photographs, 2 red outline illustrations (tattooed hands), 3 pages of facsimiles of a tablet and hieroglyphics, multi-fold table of the population of the Yaeyama island group, 10 pages of tables for Yaeyama, large fold out map at the rear, 186 pp. The folding table has four folds out and contains a village by village census of the various Yaeyama towns. The table shows a total population in the Yaeyama area of 16,995 and 3399 houses. The author was a Professor of History at the Imperial Nanyang College in Shanghai. This book probably represents the earliest and most comprehensive English language discussion of the Ryukyu Islands up to the date it was published. The author covers all aspects of the then current (early 1900) society as well as traces it's historical origins. It is particularly informative because the author presents much information from Chinese records. The book is well illustrated.


Table of Contents



Preface
Preliminary                                      I
General Description                              7
History                                         13
Foreigners and the Loochoos                     30
The People                                      33
Temples and Public Buildings                    39
The Snakes                                      44
The Products and Commerce of the Islands        46
Government Institutions                         56
Japanese Colonization in the Loochoos           59
Appendix I.   Memorandum prepared by the 
   Chief Official of the Yaeyama Group          62
Appendix II.  Abstract of a Manuscript
   History of the Loochoos                      76
Appendix III. Extracts from Chinese Ming
   Dynasty History                              98
Appendix IV   Extracts from the Chinese 
   "Present Dynasty's Survey of 
   Historical Facts"                           118
Appendix V.   Extract from "Letters and 
   Dispatches of Li Hung-chang"                159
Bibliography                                    92
Hieroglyphics                                   96
Map                                Facing page 186





Title Page



Frontispiece - "His Excellency Baron Narahara
Governor of Loochoo Islands"

"Photo. T. Hasegawa  Tokyo"



Text Illustrations.





Samisen Players (page 2)



A Loochooan Actor (page 3)



Banyan Tree at Naha (page 12)



View of Part of Naha (page 17)



Loochooan Junk, Near Naha (page 17)



Cemetery with Graves of Perry's Expedition (page 24)



Chief Port of Miyako Island (page 25)



Loochooan Native, Near Naha (page 30)



Monument Erected by Order of Kaiser Wilhelm I 
in Miyako Island (page 32)



Killing Pigs at Naha (page 34)



Market at Naha (page 34)



[Tattooed Hands, red color, 2 images]



The Palace of the Former Kings, Shuri (page 39)



A House on Yonakuni Island (page 40)



The Snake Laboratory (page 44)



Loochooan Girl Weaving Kasuri (page 46)



Shinto and Buddhist Temples at Naha (page 47)



Nago, in the Interior of Okinawa, 13 ri From Naha (page 51)



One of the Gates of Shuri (page 52)



Graves of Persons of Higher Class (page 53)



Graves of Common People in Naha (page 53)



Port of Naze, Oshima Island (page 55)



Road from Naha to Shuri (page 57)



Lighthouse at Naha (page 60)



Copy of a Tablet (page 95)



Copy of a Tablet (page 96-7)


Map (facing last page)

3 folds out; 16 1/2 x 9 1/2 in - 42.8 x 24.7 cm