Illustrated Guide to Kyoto and
Its Suburbs with Map
By T. Yoshii, 1891 (1894)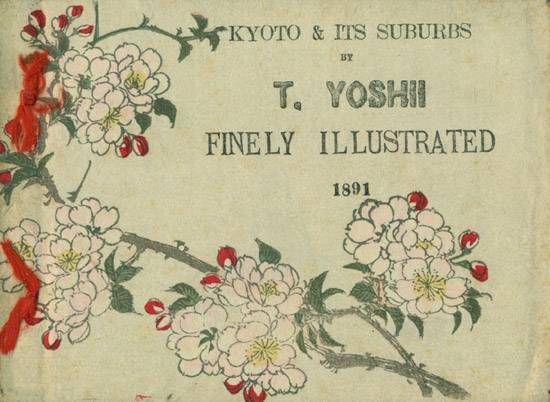 Yoshii, T (Tsunetaro)
Ludlow, J.P.:
Illustrated Guide to Kyoto and Its Suburbs with Map, an Entirely New Work by T. Yoshii, Revised by J.P. Ludlow, Osaka, 1891 and a second printing in 1894, T. Nakashima & Co., printed by Osaka Type Foundery (1st printing) and Osaka Maeno-Kappansho (2nd printing), 32mo (3 1/2 x 5 in - 8.8 x 12.3 cm), decorated card cover, silk ties, 1/2 inch of the top and bottom of spine covered with blue silk cloth, text in English, text on folded pages, color fold-out frontispiece map, 17 color woodblock prints on single sheets, unnumbered blank pages at front, 56 (28 folded pages) numbered pages. The title page indicates a price of "30 sen only."
The title on the front cover reads Kyoto & Suburbs by T. Yoshii, Finely Illustrated, 1891.
The book carries the date of 1891 on the title page. I have recorded two printings. The first in 1891 and the second in 1894. Images of the colophon from the first and second printings are below.
The book was issued with a thin paper wrapper with a color woodblock print and the same title as on the title page.
The front eight pages are:
Title Page/List of Subjects
List of Subjects/List of Illustrations
Directory/Directory
Important Suggestions/Important Suggestions
The frontispiece map has one fold up, one fold down and two folds out. It is printed on very thin paper and measures 24 x 28 cm.

Images below are from the second printing in 1894.

Outside Wrapper.


Frontis-Map (Fold Out).


Title Page.


List of Subjects.


List of Illustrations.



Examples of the Woodblock Plates (6 of 17)



















Colophon (1st Printing).

Printed:    Meiji 23 (1890).12.17
Published:  Meiji 23 (1890).12.19


Colophon (2nd Printing).

Printed:    Meiji 23 (1890).12.17
Published:  Meiji 23 (1890).12.19
Reprinted:  Meiji 26 (1894).5.15

At the foot of the last page (56), which is opposite the colophon,
the printer is stated:
   "Printed by Osaka Type Foundery" - 1st printing
   "Printed by Osaka Maeno-Kappansho" - 2nd printing