Yamaguchi Uji (Shozan Yashi)
Satow, Ernest (translator)
Watanabe Shuziro (supplementary notes):
Kinse Shiriaku, A History of Japan from the First Visit of Commodore Perry in 1853 to The Capture of Hakodate by the Mikado's Forces in 1869, Translated from Japanese by Sir Ernest Mason Satow, Revised Edition with Supplementary Notes by Shuziro Watanabe, Tokyo, The Naigwai Shuppan Kyokwai, 12mo, (5 x 7 1/2 in - 12.8 x 18.7 cm), printed wraps, 178 pp. The back side of the colophon page contains advertisements.

This work, originally translated in 1873, was produced by a government official in the Bakufu/Shogunate government (Foreign Department) and in the Imperial Government (Education Department). The title Kinse Shiriaku translates as "Short History of Recent Times." The author's purpose was to present an unbiased summary of the events that have passed since "...the sudden arrival of the American squadron in 1853 awoke Japan from the almost undisturbed slumber of the last two and one half centuries." The work begins with the arrival of Commodore Perry and the American squadron in July of 1853 and ends with the full restoration of power in the Meiji Emperor in 1869. This book is important in that it presents a succinct chronological flow of the major political, military, social and physical (tsunami an earthquakes) events that were occurring during this time (1853-1869). Great attention is given to the actions and reactions of the foreign powers then in Japan.

The book is divided into three "Volumes."
Volume I (pages 1-51) covers the period from July of 1853 and Perry's first landing to deliver the American letter to the Emperor to December of 1863 and the burning of the Chief Castle in Yedo for the second and final time.

Volume II (pages 52-111) begins in January 1863 and inter-clan fighting and the shelling of a Satsuma merchant ship and the subsequent shelling of Shimonoseki by foreign ships in September of 1863. This volume ends in February of 1868 with the foreign representatives in Japan declaring neutrality in the impending civil war.

Volume III (pages 112-178) starts with the declaration to foreign representatives of the assumption of power by the Imperial Government in Kyoto in March of 1868. This volume outlines the major events of the Boshin War (1868-1869). In addition to the internal military and political events, it records the movement of foreign representatives from neutrality to support of the Imperial Government. The volume contains an account of the purchase of an ironclad ship from America which arrived in Yokohama in the summer of 1868.

Colophon (Japanese language at rear of book):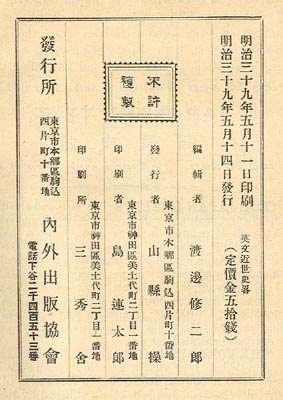 Printed: Meiji 39 (1906).5.11
Distributed: Meiji 39 (1906).5.14