A Romanized Japanese Reader
Basil Hall Chamberlain, 1886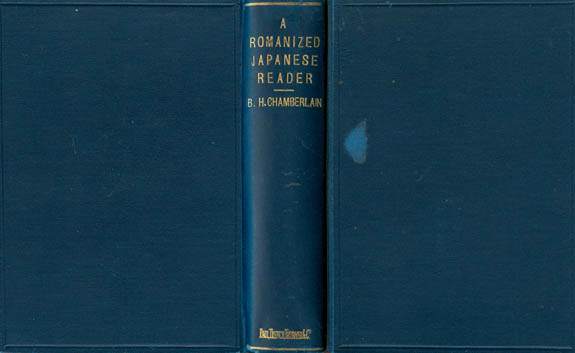 Chamberlain, Basil Hall:
A Romanized Japanese Reader, Consisting of Japanese Anecdotes, Maxims, etc., in Easy Written Style, with an English Translation and Notes, Yokohama, Kelly & Walsh, London, Trubner & Co., printed at the Office of the "Japan Mail" in Yokohama, 1886, three parts bound into one book, 16mo (4 3/4 x 6 1/2 in - 12 x 16.5 cm), blue cloth with gilt lettering and ruling on the spine, title at the head of the spine and "Paul, Trench, Trubner & C." at the foot, preface (pages iii-iv) dated May 1886, Part I, Japanese Text - 106 pp, Part II, English Translation - 135 pp, Part III, Notes - 103 pp, List of "Difficult Idioms in Common Written Use" (pages i-xiii), Japanese language colophon followed by two unnumbered pages of "Abbreviations." All three parts start with a full title page. Parts I & II have a table of contents next. Part III starts with an "Introductory Note" after the title page. Intended to be a companion to Simplified Grammar of the Japanese Language by Chamberlain and published the same year.
In Part I Japanese tales/proverbs are transliterated into English (romanized). There are a total of 64 of them. They range from a few paragraphs to several pages in length. Part II tracks the first part but presents the tale or proverb translated into English. In Part III, the author provides commentary (grammar as well as substance) on each of the tales or proverbs.
There is no date on the title pages. The preface found in Part I is dated May 1886. The Japanese colophon found at the rear states a printing and publication date of Meiji 19 (1886).
The preface states:
This Reader is intended to be studied in connection with the same author's 'Simplified Grammar of the Japanese Language," one giving the theory and the other the practice of the written speech.
The Wenckstern bibliography describes the book in these terms:
Chamberlain, B. H. Romanized Japanese Reader, consisting of Japanese Anecdotes, Maxims, etc., in easy Written Style, with an English Translation and Notes. 3 parts in one vol. pp. vi. 106, 135, 103, and XIII, 12mo, London, 1886. (6s.)

Contents: I. Japanese text, II. English translation, III. notes. (Wenckstern, at page 75)

Part I, Title Page.


Part II, Title Page.


Part III, Title Page


Japanese Colophon after the Index.