Yeddo.
Nach Original-Skizzen
by Wilhelm Heine, c1876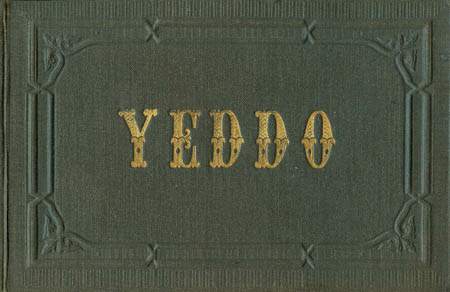 Heine, Wilhelm:
Yeddo. Nach Original-Skizzen, Dresden, George Glibers, Druck von C.C. Meinhold & Söhne, green blindstamp embossed cloth covers with title in gilt on front cover, not dated but ca 1876, horizontal small 12mo (7 x 4 1/2 in - 17.9 x 11.6 cm), text in German, 5 plate fold-out panoramic view of Yeddo (Tokyo) at the back following the text. In this book Heine reflects back on his two visits to Japan in 1853-4 (US Perry Expedition) and 1860-1 (Prussian East Asia Expedition).
The fold-out panorama of Tokyo is composed of black and white albumen photographs of a painting by Heine. The albumen photographs are tipped to five cards.
The cards measure 6 1/2 x 4 1/4 in - 16.5 x 10.7 cm.
The tipped in photographs measure 6 1/2 x 2 5/8 in - 16.5 x 6.7 cm.
The complete image formed by the 5 plates measures 31 1/2 x 2 5/8 in - 82.5 x 6.7 cm.
Heine was known to have possessed a large number of daguerreotypes taken during the Prussian East Asia Expedition which visited Japan in late 1860 through early 1861. The painting used in the panorama is believed to have been created from those images.
The text block is secured by brown cloth tape which is attached to the inside of the front cover just before the spine fold. The first of the five panels of the panorama is also a part of that binding. This binding is not secured to the spine or to the back cover. The four panels of the panorama that follow are attached to each other with white cloth tape at the back along the edges. With this binding technique, the spine and back cover are not attached to the text block or plates and are like a wrap-around case. This binding technique allows the panorama to be easily folded out without putting stress on the text block.
While the book is not dated, it is believed to be his last book and published in 1876. In the introduction to Heine's memories, Frederic Trautmann writes:
In 1876, after an earthquake called international attention to the capital, Heine published Yeddo. Nach Original-Skizzen. Memories of two expeditions informed it's forty pages of text. Daguerreotypes from the Prussian East Asia Expedition composed a foldout, five pictures into one panorama, his largest view of Japan, and his last.

When the book appeared, Heine had not been in Japan for 15 years.

(With Perry to Japan, A Memoir by William Heine Translated, With an Introduction and Annotations by Frederic Trautmann, 1990, University of Hawaii Press, at page 22).
The book is not listed by Wenckstern and is seldom seen in library holdings or on the market.
For information on Wilhelm Heine, click here.

Title Page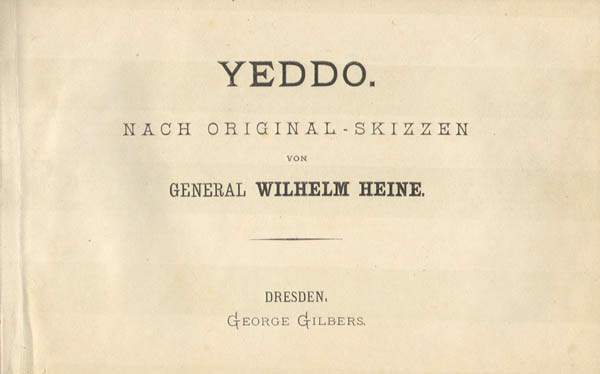 First Page (1)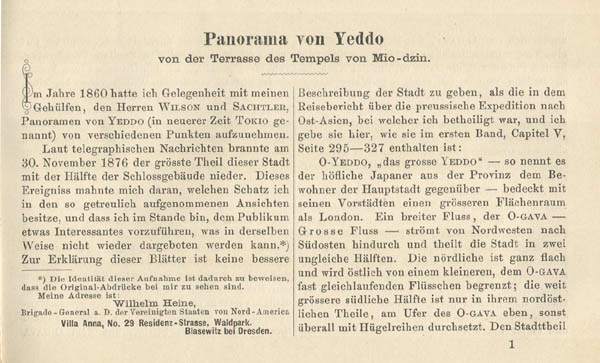 Last Page (40)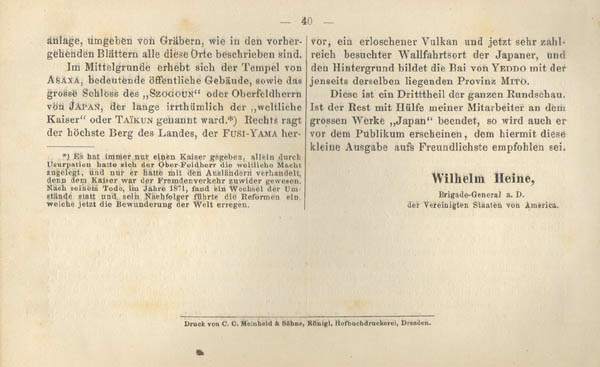 Five Panel Panorama of Yeddo After Last Text Page


Each of the Five Panels of the Panorama of Yeddo After Last Page


Book with Front Cover Down & Showing Back of Last Panel of the Panorama