Hana, a Daughter of Japan
Gensai Murai, 1904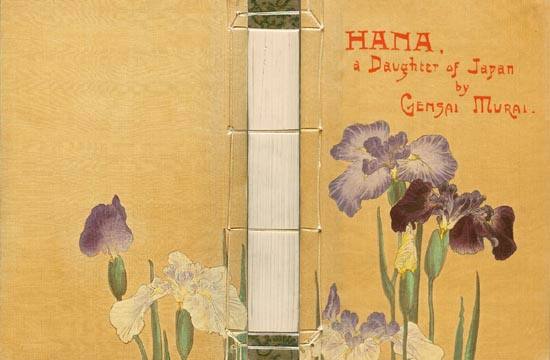 Kwai Ukichi (section on author)
Murai Gensai (1868-1927):
Hana, a Daughter of Japan, Tokyo, The Hochi Shimbun, printed by the Hobunsha, 1904, small 8vo (6 x 8 3/4 in - 15.3 x 22.3 cm), front and back silk covered boards illustrated with color woodblock prints of flowers, spine uncovered except for 1/2 inch decorated (brocade) silk at the top and bottom, bound Japanese style with string ties (utilizing 6 holes), front and rear paste downs and adjacent free end pages tinted green with embossed off-white illustrations of flowers and butterflies, two thin red ribbon markers, single color (silver) woodblock vignette of flower on the title page, multi-color fold-out woodblock frontispiece, two multi-color woodblock single page plates, 9 tinted color woodblock single page plates, numerous small black and white in text woodcut illustrations generally and the start and end of each of the twenty-two chapters, 45 page section (VII-XLVII) titled "Gensai Murai. Life and Works," 3 page author's Preface (LIII-LV), Contents (22 chapters - LVI-LXII), List of Illustrations (LXIII-LXVI), 298 numbered pages. The outside section of the frontispiece folds in and the folded plate is preceded by a blank page. The two multi-color woodblock plates in the text are preceded by tissue guards. The book was issued with a folding case and cardboard slip case. The folding case is cloth covered with two ivory type clasps. The top board of the folding case has silver lettering and an illustration of two crows in flight against the sun. The slip case is cardboard with a paste on title.
Murai Gensa spent approximately one year in the United States when he was twenty. He learned the English language during that stay. After his return to Japan he became a noted novelist and the editor of the Hochi Shimbu (newspaper). This romantic novel was written by Murai with the specific intent that it be translated into English. It was written as the Russo-Japan war was raging.
The twelve woodblock plates in the books were executed by executed by Kwason Suzuki. The three multi-color plates are on thick, high quality, paper. The following comments are made regarding these plates:
This book is illustrated by Mr. Kwason Suzuki, one of Japan's artists of renown. They are all hand reproductions from wood-cuts. The frontispiece went through thirty-five processes upon thirty-five cuts; the illustration facing page 122 twenty-eight times and the one facing page 270 twenty-three times. The rest of the illustrations are in two colors. A flower of the Platycodon grandiflorum in a circle on the title page is the family crest of the author. (page LXVI)

Title Page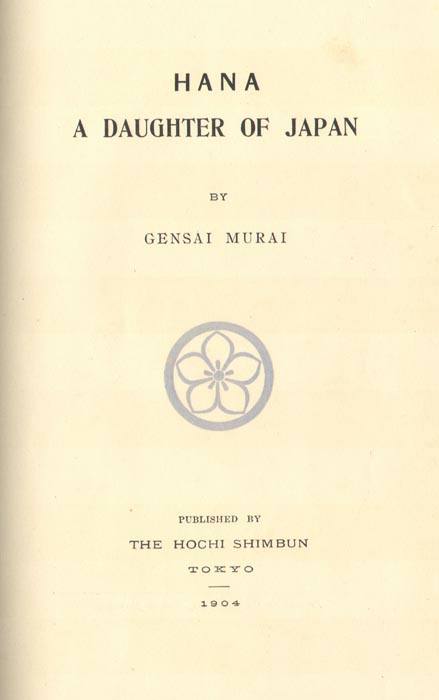 All Plates

Frontispiece (Multi-color, fold-out)
"Soon the three came to the open valley"



Facing page 6
"A young and fair daughter of Japan"
 


Facing page 38
"Brother, I want you to return with all the glories of victory"
 


Facing page 46
"In the midst of this danger the Japanese destroyer
dauntlessly kept on here speed"



Facing page 62
"You hae come from Tokyo to see me; that is very kind of you"



Facing page 92
"What is it that you take so sorely to heart"



Facing page 116
"Nearly exhausted, when he was taken on the steamer"



Facing page 122 (Multi-color)
"Toshi wo heshi Ito no midare no Furushisani, Koromo no tate
wa Hokoribi-ne keri"



Facing page 176
"Like a thief, he peered inside"



Facing page 226
"Hana was always the foremost, regardless of danger'



Facing page 270 (Multi-color)
"Monopolized all the art genius of the land



Facing page 296
"You have retreated from the path of humanity"