Diary of Richard Cocks
1615-1622

1899, Japanese Edition
Volume II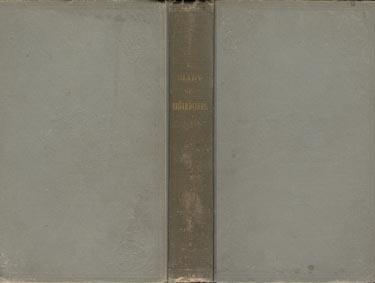 The Complete 1899 Set.
Cocks, Richard (diary writer)
Murakami, N. (notes/translations):
Diary of Richard Cocks, Cape-Merchant in the English Factory in Japan 1615-1622, 2 volumes, Japanese printing, Tokyo, the Sankosha, 8vo, gray cloth blindstamped with gilt, with notes by N. Murakami, 439 pp and 455 pp. Text in English and Japanese. This is a reprint of an 1883 edition (see below) with supplemental material/notes and Japanese transalation provided by N. Murakami. This is dairy of a "cape-merchant/ clothworker" in the English factory in Japan during the period of 1615-1622. Volume 1 covers the period from 1615-1617. Volume 2 covers from 1618-22.

The 0riginal 1883 Set.
Cocks, Richard (diary writer)
Thompson, Edward Maunde (editor):
Diary of Richard Cocks, Cape-Merchant in the English Factory in Japan 1615-1622, Japanese Edition, 2 volumes, London, 1883, volumes 66 and 67 of the First Series of Hakluyt Society publications, edited by Edward Maunde Thompson, 8vo, 349 & 368 pp.

Volume II, 1899 Edition, 455 pp.
Title Page.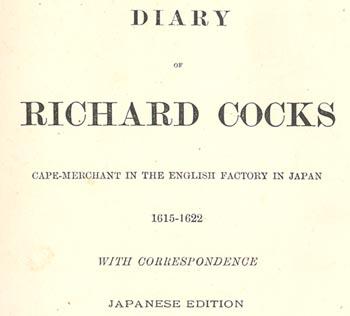 "Diary of Richard Cocks." Cock's diary is in English (old English at that) and covers the period from January 1, 1618 and ends March 24, 1622. (pages 1 - 255)
Appendix.
"Correspondence" from November 1613 - December 1622 (pages 256- 339)
"Privileges" (pages 340 - 348) this is an English translation of the "Emperor's Privileges" and a modification of them in English and Japanese given to Sir Thomas Smith, Governor of the East India Company for use in his 8th Voyage. These documents are dated in September, 1618.
"Fate of the English Factory at Hirado by Thomas Rundall" (pages 349- 354). The British closed the factory (trading concession) at Hirado and departed Japan in 1623.
"Dissolution of the English Factory in Japan" (pages 355 - 372). Contains several pieces of correspondence dated 1623 relating to closing the British enterprise.
"The English in Japan in 1673" (pages 373 - 394). This is a reprint of the "Japan Diary" by J. G. Scheuchzer. It recounts the British voyage in the "Return" to again establish trade with Japan. The British arrived in Nagasaki in late June of 1673 with the goal again establishing trade relations. The British remained until August when there request was declined and they were told to depart and "not return." There is a Japanese translation of this account (pages 395 - 433).
Index and Glossary (pages 433-455).