Classical Tales of Old Japan
Takenobu Yoshitaro & Arthur Lloyd (Translators)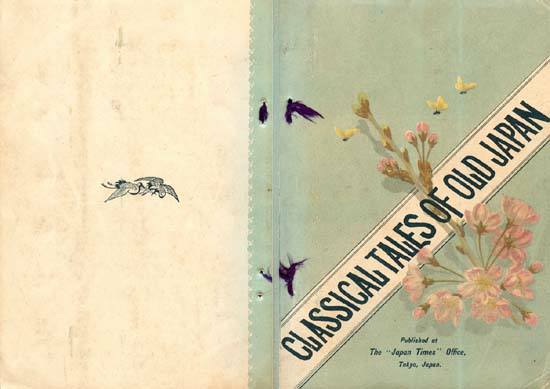 Lloyd, Arthur (translation editor)
Takenobu Yoshitaro (Y.T.):
Classical Tales of Old Japan, Tokyo, published at the 'Japan Times' Office, 12mo (5 x 7 1/4 in - 13 x 18.5 cm), preface and colophon dated 1898 (Meiji 31), paper wraps, bound Western style but with two silk stab ties also, front cover illustrated with color woodblock, folding color woodblock print protected by tissue guard following the title page, 12 black and white full page woodcut illustrations, 80 pp. The book presents twelve "classical" Japanese tales translated into English. Each tale is accompanied by a black and white full page illustration a one or two sentence description relating the image to the tale. The frontispiece is a fold-out (1 fold-out) color woodblock print with artist's seals. It measures 8 3/4 x 7 1/4 in - 22.5 x 18.5 cm. The 12 tales are: 1) The Painter Matahei and His Zeal, 2) The Gate of Ataka, 3) Ordeal by 'Koto', 4) The Japanese 'Romeo and Juliet', 5) The 'Pot-trees' (Hachinoki), 6) A Private School; Loyalty in Olden Days, 7) Hikohichi Omori, 8) The White Banner of Genji; The 'Arm-bearing' Village, 9) The Novice's Trial, 10) How the Brothers Soga Avenged the Death of their Father, 11) The Sprite of the Willow-Tree, 12) The 'Kirihitoha,' or Death of Katagiri. According to the preface, many of these tales were originally published in The Japan Times.

Title Page



Fold-out Color Woodblock


One fold out (5 x 7 1/4 in)

Fold-out Color Woodblock


One fold out (5 x 7 1/4 in)

Illustrations (black and white)