~~ Book 1911070723 ~~
Government of Formosa,
Report on the Control of the
Aborigines in Formosa, 1911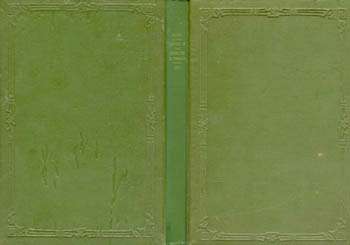 Condition. The book is in Good+ condition. The boards have some rubbed areas and spots where there is light puckering under the cloth. There is some looseness in the signatures at the middle but the hinges are solid and binding strong. All plates, maps and tables are present. The maps are in near fine condition with no tears or staining. On a free front paper is tipped in a card reading "With the Compliments of Rimpie Otsu, Superintendent, Bureau of Aboriginal Affairs, Government of Formosa, Taihoku, Formosa."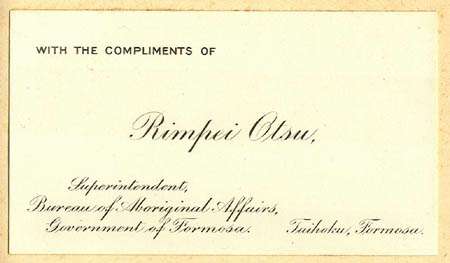 Bureau of Aboriginal Affairs, Government of Formosa:
Government of Formosa, Report on the Control of the Aborigines in Formosa, 1911, Taihoku, Formosa, printed in Japan by the Toyo Printing Company, Tokyo, green blindstamped cloth with gilt lettering on the spine, 8vo (6 1/4 x 8 3/4 in - 15.9 x 22.5 cm), text in English, 45 pages of text and tables, 3 maps and an additional 100 pages of black and white halftone plates. Japan gained control over Formosa (Taiwan) in 1895 as a result of the Japan-China war. A major undertaking by the Japanese government was to understand and exercise authority over the nine "aboriginal" groups or tribes inhabiting the island of Formosa. This report documents that activity.
The major aboriginal groupings/tribes were the Tiayal, Saisett, Ami, Bunun, Tsuou, Piyuma, Tsarisen, Paiwan and Yami. Early in the book there is a nine color coded map which shows the distribution of these nine tribes/groups. Conflict was a common situation between the aboriginal people and the Japanese or their surrogates. In this regard, the book refers to the efforts to end hostile actions as "Control of the Savages." Essentially the book deals with 120,000 natives of Formosa living in 671 villages. The 100 black and white halftone plates extensively document these people and their customs and ways of life. A few images show the Japanese interaction with them but that is the exception. The primary method of control was the "Guard-Line" which consisted of a series of outposts primarily manned by "Aiyu" (trusted indigenous irregular troops) under Japanese authority. In addition, Japanese lead punitive expeditions were mounted against the "savages" in response to specific misconduct. The book discusses 11 of these expeditions over the period from 1898 (against the Taruko tribes) through May of 1909 (against the Charogisu tribe). These actions generally involved a contingent of Japanese troops. They are not dealt with in detail and the discussion is very broad and really just an overview.
Title Page



Example of Plates (black and white halftone, printed on one side only)

A Group of Taival Savages


Taival Skull-shelf


A Yami Man (Botel Tobago)


A Branch Superintendent Station in the Guard Line


Bunun Men


A School for Instruction of Paiwan Children


Paiwan Skull Shelf


An Ami Man and His Wife


A Touso Family



The 3 Color Maps:

Map 1 - Ethnological Map of Formosa
Spans two pages
22 x 26 cm



Map 2 - Map of Northern Formosa
3 folds out, 1 fold down
30.5 x 42 cm



Map 3 - Map of Southern Formosa
Showing the District Occupied by the Aborigines
2 folds out, 1 fold up, 1 fold down
37 x 60 cm




Colophon

Printed: Meiji 44 (1911).10.25
Distributed: Meiji 44 (1911).11.5