Vital Moments
Lettered and Illuminated
by Frank Unger, 1910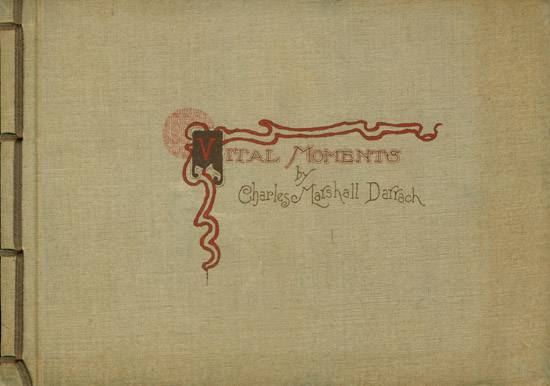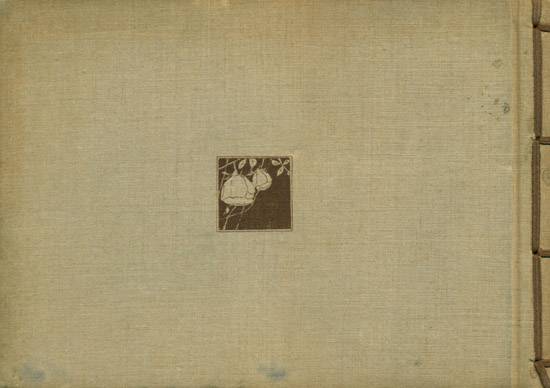 Condition. The book is in Very Good condition. The boards are lightly toned. The ribbon tie where it pass under at the foot of the spine is broken. The binding is solid. Internally the book is clean and free of fauts.

Darrach, Charles Marshall Unger, Frank (illustrations):
Vital Moments, Lettered and Illuminated by Frank Unger, 1910, Yokohama, Box of Curios Printing and Publishing Company, horizontal 4to (12 1/2 x 9 in - 31.5 x 22.8 cm), decorated cloth with ribbon four hole ribbon ties, spine Japanese Vellum paper, illustrations/illumination lithographed in color, limited to 500 copies with each copy numbered in manuscript this being book "No. 268," 13 leaves with printed text and illustrations. The 13 leaves include the title page. All but the last leaf are printed on one side only. The final leaf has the colophon/limitation statement printed on the back. There are gilt decorated free pages (printed one side only) at the front and back. The inside of the front and back covers are illustrated with the same pattern as the free pages. The book presents three multi-verse poems.
I believe that the illustrator, Frank Unger, was the son of Alfred and Mary Unger. The Ungers ran a plant nursery (Boehmer & Company) in Yokohama from 1892 to 1908. Mary Unger was the author of The Favorite Flowers of Japan (information here) which saw four printings by Takejiro Hasegawa between 1906 and 1911.
The book is composed of three multi-verse poems:
Ah, Sweet I was Asleep!
The Flame Words
Night Visions



























Colophon/Limitation Statement