~~Book 1909130330 ~~
Lord Ii Naosuke and New Japan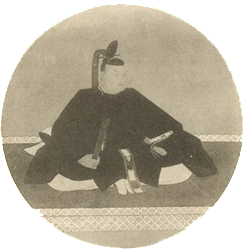 by Akimoto Shunkichi
Translated by Nakamura Katsumaro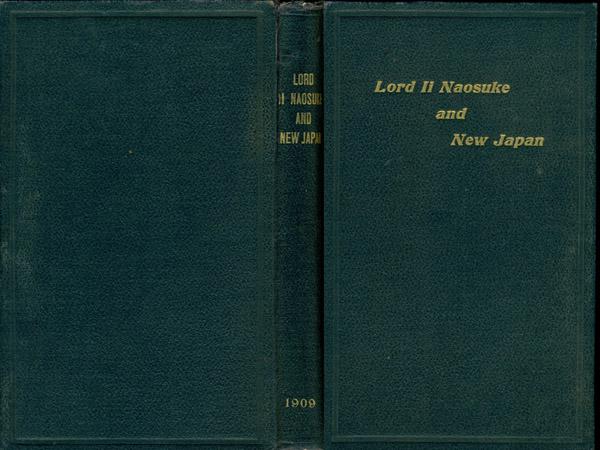 Condition. The book is in Very Good condition. The covers are lightly faded and the head and foot of spine soft. The binding is solid. There is a three line ink inscription on a front free page. There is light foxing on the front pages with the plates.

Akimoto Shunkichi
Nakamura Katsumaro (translator):
Lord Ii Naosuke and New Japan Translated and Adapted by Shunkichi Akimoto from Il Tairo To Kaiko by Katsumaro Nakamura, Tokyo, Bungakushi, 1909, 12mo (4 3/4 x 7 1/2 in - 12 x 18.8 cm), black cloth with gilt lettering on front board and spine, four black and white frontisplates (2 collotype with tissue guards and 2 halftone), preface dated June 25, 1909 (i-iiii), 187 pp. Ii Naosuke was born into nobility in one of the most important fiefs in Japan and rose to positions of great power under the Shogun Tokugawa Iesada. Naosuke was a key figure in the turbulent period between 1853 and 1858 as Japan struggled to deal with the mounting American and foreign pressure to open its ports to foreign trade. Naosuke pursued a moderate position urging a peaceful resolution and a limited opening of Japan to foreign trade. These were turbulent times and his position was not popular within the Shogun's government or the general population. Despite strong opposition, Naosuke's views prevailed and a series of treaties were executed with America and other European powers which opened Japan, on a limited basis, to foreign trade. Naosuke was assassinated at the age of 44 in 1860 by opponents to his position on the opening of Japan. This book recounts Nasokue's life from his birth to death. It reviews the Japanese policy of seclusion prior to the arrival of Commodore Perry and the American squadron in 1853. The political power structure in Japan that dealt with the American initiate to open the country is outlined and Naosuke's key role in that structure is detailed. His activities supporting the opening of Japan and the subsequent treaties are covered. This book is a translation of a book titled Ii Naosuke to Kaiko (or "Ii Naosuke and the opening of the ports") by Akimoto Shunkichi which was published the same year. In that book the author noted "Lord Naosuke hitherto enshrouded in clouds of doubts, whose name was associated until quite recently with that of traitors and rebels, is now universally revered as that of a great patriot and statesman."

Title Page.


Frontisplates (4 plates - all black and white).
Collotype plate with tissue guard.
Tairo Ii Naosuke (collotype) from a painting



Collotype plate with tissue guard - 3 images.

Treaty of Amity and Commerce between US and Japan, July 29, 1858
Treaty with Great Britain, August 9, 1858
Treaty with France, October 9, 1858


Halftone plate.
Secrets of the Tea Ceremony in 31 syllables by Tairo Ii Naosuke (halftone)


Halftone plate with two images (from 1876 photographs).

Look-out tower, Hikone Castle
Front view of Hikone Castle

Colophon.