~~ Book 1905160707 ~~
Japanese Types
1905, 30 Lithographed Illustrations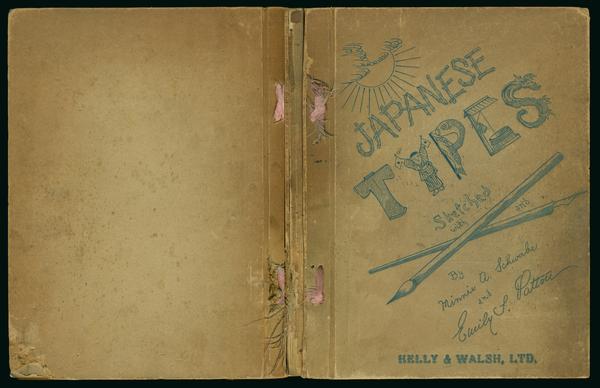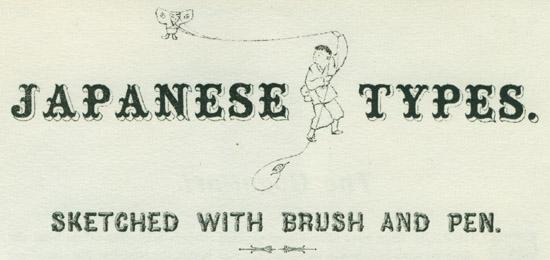 Condition. The book is in Good condition. Boards are toned and the edges scuffed. Silk ties are in poor condition, trimmed and appear to be re tied. The spine covering is present but eroded or broken over approximately 65% of the area and missing in about 35%. The bottom right corner of the back board is broken/missing over a 3nbsp;xnbsp;2nbsp;cm area and chipped a further 2nbsp;cm up. The 2 adjoining text block pages have corner damage. There is a 4nbsp;xnbsp;2nbsp;cm eroded area to the back board in the area of the bottom tie. There is light foxing on the edges and to the text page. The text block is solid.

Patton, Emily S. (text)
Schwabe, Minnie A. (illustrations) (d. 1918):
Japanese Types, Sketched with Brush and Pen by Minnie A. Schwabe and Emily S. Patton, Yokohama, Kelly and Walsh, LTD., large (8 3/8 x 11 in - 21.3 x 27.8 cm), 1905, paper over thick card covers, front board with decoration and lettering printed in blue, back cover blank, spine covered with paper, two cord ties, card stock paper throughout (.16 mm thick), free page at front, preface/list of subjects with lithographed illustrations, colophon at rear, 30 pages of text and 30 lithographed plates. The text, written by Emily Patton, appears to the left and the lithographed images, drawn by Millie A. Schwabe, to the right. Text is printed on the back of the preface/list of plates page and the back of each lithographed plate except for the back of the last lithographed plate which is blank.
While the book is frequently described as 4to in published descriptions, I believe large 8vo (imperial octavo) is a more precise size description for the book with card covers.
To see the front card cover for this book, click here. One bookseller has offered this book with "Original pictorial cloth" indicating marketing of a hard bound version.



Illustrated Preface/List of Plates:




Examples of Text and Plates:

The Gogai-uri (1st Plate)



The Nesan



The Lantern-Seller



The Ameya



Japan's Future Army (Last Plate & Only Horizontal Format Plate)



Colophon

Printed:  Meiji 38 (1905).8.6 
Published:  Meiji 38 (1905).8.10 


Close-up of Lithograph Printing