~~ Book 1897080728 ~~
Journeys Among the Gentle Japs
in the Summer of 1895
Rev. J. LL. Thomas, 1897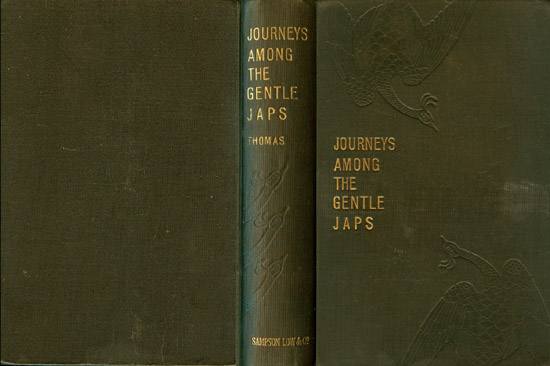 Condition. The book is in Very Good condition. The corners are bumped. There is a large rubbed area (color is slightly lighter) on the front covers and minor scraping and soiling elsewhere on the front and back covers. There is heavy foxing for the first and last 10 or so pages. Internally there is scattered light foxing primarily on the page edges or in the page margins. The map is complete and sound with a one inch tear in the margin which is outside the image are. There are scattered areas of foxing on the front and back of the map. The book has a Cliff Parfitt ex-libris book plate and an author's inscription on a front free paper.

Thomas, Rev. J. LL. (Joseph Llewelyn):
Journeys Among the Gentle Japs in the Summer of 1895 with a Special Chapter on the Religions of Japan, with Maps and a Photogravure Portrait, London, Sampson Low, Marston & Company, Limited, printed by William Clowes and Sons, Limited, 1897, large 12mo (5 1/2 x 7 1/2 in - 13.5 x 18.7 cm), green textured (blindstamped) cloth with two cranes blindstamped on the front cover, gilt lettering on front cover and spine, black and white photogravure portrait of the author, folding color map of Japan, 32 pages of publisher's advertisements, i-x, 266 pp. The large folding map (3 folds out and 3 folds up) is a color lithograph map. It is placed between the last two pages of text (pages 250 and 251). The text is followed by an index (pages 252-66) and then the publisher's advertisements (32 pages).

Frontispiece and Title Page



Cliff Parfitt Book Plate and Inscription by Author


While not signed the stroke below the inscription matches the
stroke below the facsimile signature below the frontispiece portrait


Map.


Map 3 folds out 3 folds up
14 x 17 in - 35.7 x 43.5 cm
"F.S. Weller, Litho"

Contents


Dedication
Preface
Contents
Chapter I.      Across Canada
Chapter II.     The North Pacific
Chapter III.    Yokohama
Chapter IV.     Kamakura and Enoshima
Chapter V.      The Hakone Hills
Chapter VI.     Tokyo
Chapter VII.    Tokyo (continued)
Chapter VIII.   Tokyo (continued
Chapter IX.     Nikko and Neighbourhood
Chapter X.      The Tokaido Line
Chapter XI.     Kobe and Neighbourhood
Chapter XII.    The Sanyo Line
Chapter XIII.   Shikoku
Chapter XIV.    Shikoku (continued)
Chapter XV.     The Return
Chapter XVI.    The Religions of Japan
Index
Publisher's Advertisements*

* "Select List of Books in all Departments of Literature published by Sampson Low, Marston & Company, Ltd" (Pages 1-30) followed by a one page list of books by Jules Verne and a one page list of periodical publications.


The following T. Hasegawa and K. Ogawa books are listed in the Publisher's Ads at the rear.
Japanese Books, untearable.
        1. Rat's Plaint, by Little, 5s.
        2. Smith, Children's Japan, 3s. 6d.
        3. Bramhall, Niponese Rhymes, 5s.
        4. Princess Splendor, fairy tale. 2s.

OGAWA, Open-Air Life in Japan, 15s. nett.; Out of doors Life in Japan, 12s. nett.