~~ Book 1896131216 ~~
The Temples and Shrines of Nikko
R. C. Hope, 1896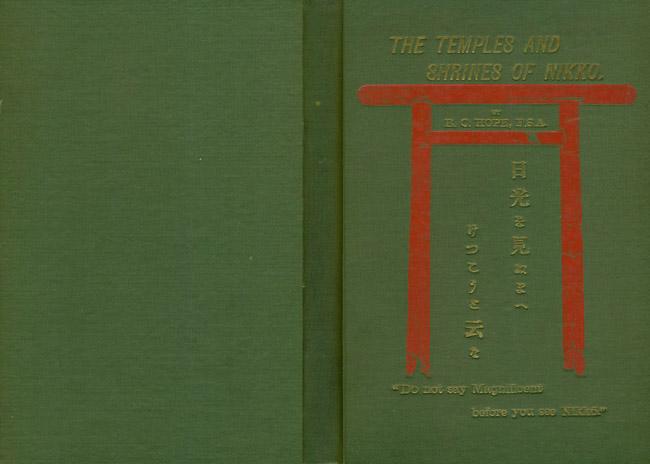 Type II

Condition. The book is in Very Good+ condition. There is moderate age toning on the inside of the front cover and title page. The same situation is found on the inside back cover and facing blank free page. The remainder of the book is clean and free foxing or staining. There is no marking or writing in the book. Corners are lightly bumped and head and food of the spine is soft. A Near Fine condition example of this book.
Hope, Robert Charles (F.S.A., F.R.S.I.):
The Temples and Shrines of Nikko, Yokohama, Kelly & Walsh, Limited, 1896, 12mo (5 1/4 x 7 5/8 in - 13.1 x 19.4 cm), green cloth with gilt lettering and red blindstamped design of a torii on front board, 4 black and white halftone plates, 119 pages plus 61 pages of publisher's and business advertisements at the front (3 ads) and rear (58 ads). A comprehensive guide to the shrines and temples in Nikko as they were at the close of the 19th century.

I have examined two versions of this book. Both have identical text (119 pp) and plates (4). They differ in the advertisements only. This is the Type II book.
Type I. Has 5 pages of publisher's advertisements at the rear only. Four pages of the advertisements are primarily for the author's other books. The fifth is for the "Plainsong and Mediaeval Music Society." None of the advertisements are aimed at the tourist trade in Japan.

Type II. Contains 61 pages of advertisements at the front (3 ads) and rear (58 ads). These include the same 5 advertisements found in the type I book plus 56 pages of advertisements by local Japanese businesses which are aimed at the tourist trade. Most of these advertisements are illustrated. These advertisements offer an insight into the businesses in Japan catering to the booming tourist trade.

Contents Page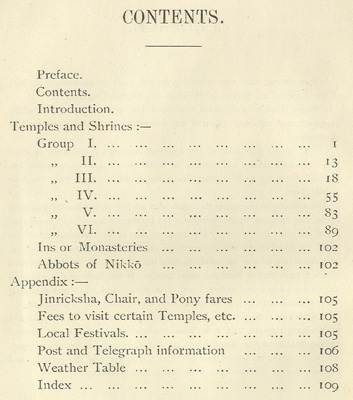 The Four Plates

Ieyasu, Painted by Himself


The Red Bridge, Nikko


Yomei-non Gate, Nikko


Avenue of Cryptomerias Leading to Nikko

Example of Advertisements (Type I & II books)

Example of Advertisements (Type II book only)