Condition. The book is in Good condition. The front wrap and spine have been repaired and reinforced by permanently affixing a translucent glassine cover. There is English and Japanese writing on the spine. Internally the book is in Very Good condition. Except for a signature and date on a blank page, there is no writing or marking. The interior is free of foxing, staining, tears or other such faults. The pages are unevenly cut, particularly at the outside and bottom edge. The index and title page are bound in at the rear after the last page (page 289).

Meriwether, C.
Lowell, Percival
Parker, E.H.
Miyabe, K.
Batchelor, Rev. J.
Chamberlain, Basil Hall:
Transactions of the Asiatic Society of Japan, Volume XXI, Yokohama, Kelly & Walsh, Ltd., printed by R. Meiklejon & Co., November 1893, 8vo, paper wraps, i-xxxvi, 289 pp. This issue contains articles on Date Masamune, the Shinto religion, important food plants of the Ainu and Okinawan (Loochooan) manners and customs. Basil Hall Chamberlain spent one month in Okinawa (Loochoo) and this is his effort to bring before the Society some of the "...most noteworthy characteristics of the land and people...." The paper discusses tombs and funeral/burial practices, marriage and the practice of using "marriage brokers," physical characteristics, wear of hairpins (rank/class being distinguished by gold, sliver, pewter or wood), snakes which he calls "the greatest curse of Loochoo," lack of religious influence, the Loochooan language, national character ("docility, courtesy and mildness") and the role of women. To see the first 7 pages of the Basil Hall Chamberlain article on Okinawa, click here.
Title Page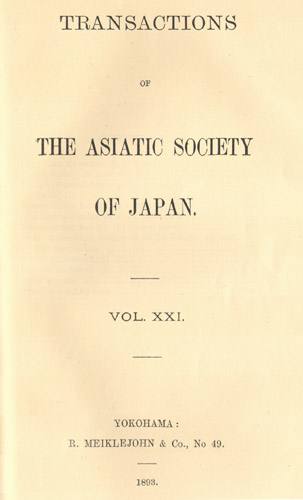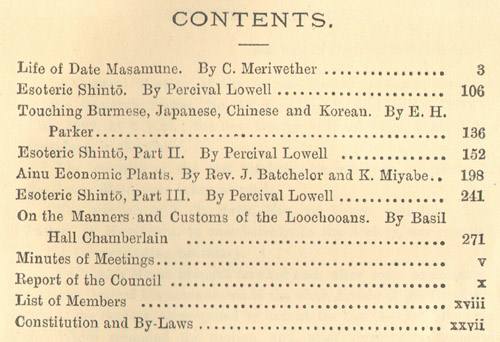 Table of Contents


Life of Date Masamune by C. Meriwether,  pages 3-105
Esoteric Shinto by Percival Lowell, pages 106-135
Touching Burmese, Japanese, Chinese and Korean by E.H. Parker, pages 136-151
Esoteric Shinto, Part II, by Percival Lowell, pages 152-197
Ainu Economic Plants by Rev. J. Batchelor and K. Miyable, pages 198-240
Esoteric Shinto, Part III by Percival Lowell, pages 241-270
On the Manners and Customs of the Loochooans by Basil Hall Chamberlain, pages 271-289
Minutes of Meetings, pages v-ix
Report of the Council, pages x-xvii
List of Members, pages xviii-xxvi
Constitution and By-Laws, pages xxvii-xxxvi

A Sketch of The Life of Date Masamune and an Account of His Embassy to Rome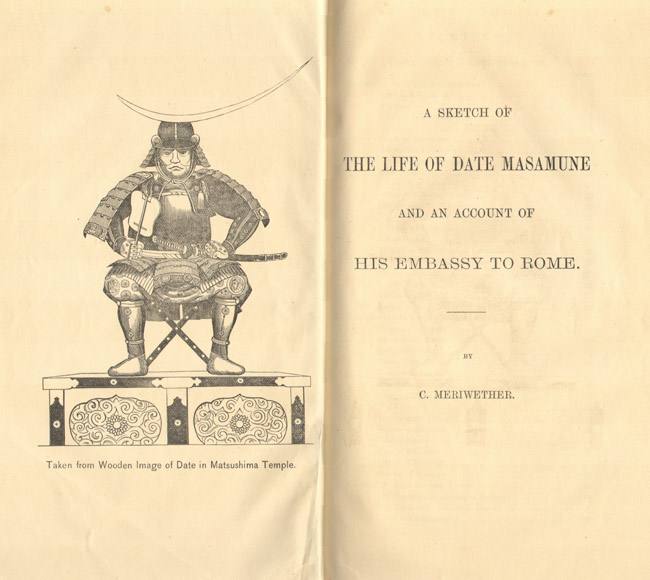 Contents