~~ Book 1890060503 ~~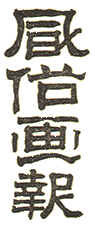 Fuzoku Gaho
July 1890 through November 1891
Nos. 18~34, 17 Consecutive Issues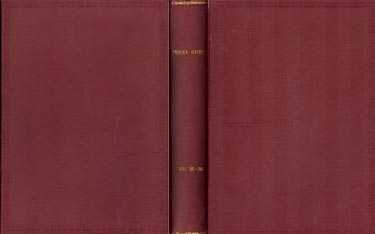 Condition. The book is in Very Good condition. The head and foot of the spine are soft and corners lightly worn. Internally very clean and free of stains or faults. The first 20 or so pages are bent at the top. Approximately 5 single pages that were not trimmed are chipped and broken where they extend beyond the edges of the trimmed pages.

Various Authors & Artists:
Fuzoku Gaho, Nos. 18-34 (Manners and Customs in Pictures), Tokyo, Toyodo, Meiji 23 (1890).7.10 through Meiji 24 (1891).11.10, 8vo (7 1/2 x 10 in - 19 x 25.7 cm), Japanese language entirely, maroon cloth, bound Japanese format (reads back to front). Each issue has a color (2-3 color) woodblock paper wrap cover. The issues run 30-40 page in length and most contain at least one single page and one double page black and white woodblock plate and several woodcut text illustrations and occasional single or double page black and white lithographed plate. In total there are over 100 plates and over half are double page. An illustrated series on coins runs in seven consecutive issues. The page numbers for this serial run consecutively in the seven issues (i.e. they are not numbered with the rest of the pages in the issue). The serial starts (actually continues from prior issues) in issue 18 (July 1890) at page 33 and ends on page 48 in issue 25 (February 1891). An important and finely illustrated graphic/pictorial journal focusing on life in Meiji era Japan.
Scattered throughout the volume in the margin is a red date imprint reading "Meiji 25(1892).3.26" in Japanese. I presume this indicates the date of publication or distribution of the bound volume.

The first issue of this publication was in February 1889. Publication continued on a weekly basis until 1916.
Examples of Wraps, Woodblocks & Lithographs:



#18 - 23(1890).7.10  
Illustrated front wrap


#19 - 23(1890).8.10
 
Example of Numismatic/Coin Serial


#20 - 23(1890).9.10

Double page woodblock with single color tint


#21 - 23(1890).10.10 
Double page black & white lithograph



#22 - 23(1890).11.10
Single page black and white lithograph

Double page tinted lithograph


#23 - 23(1890).12.10 
Color woodblock, three folds out 

Double page black & white lithograph
 

#24 - 24(1891).1.10  
Illustration on front wrap changed





#25 - 24(1891).2.10
Double page black & white lithograph



#26 - 24(1891).3.10
Double page black & white lithograph


Woodblock of the Ryounkaku in Asakusa ("Asakusa 
Twelve Stories") which opened in 1890


#27 - 24(1891).4.10


#28 - 24(1891).5.10 


#29 - 24(1891).6.10


#30 - 24(1891).7.10

Single page black and white lithograph


#31 - 24(1891).8.10



#32 - 24(1891).9.10


#33 - 24(1891).10.10

Single page black and white lithograph


#34 - 24(1891).11.10

Single page black and white lithograph

Example of inside a front cover 
(publisher's information?)