~~ Book 1888090442 ~~
Japan in Days of Yore, Part IV
The Life of Miyamoto Musashi, Part II
Walter Dening, 1888
Trade Edition, No Plates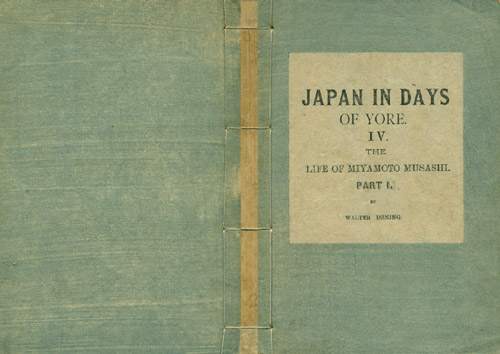 The Life of Miyamoto Musashi, Part II

Condition. The book is in Very Good condition. Very clean with no tears, marking, toning or foxing.

Dening, Rev. Walter:
Japan in Days of Yore, Part IV, The Life of Miyamoto Musashi, Part II, one part of a four part set, Tokyo, The Hakubunsha, 1888 (Meiji 21), stiff wrap covers, 12mo (5 x 7 1/4 in - 12.7 x 18.3 cm), string ties, text in English and on folded pages, Japanese language colophon at the rear, text only - no plates, 3 pages of publisher's advertisements, colophon in Japanese, a total of 82 numbered pages of text. The spine is not covered except for approximately 3/4 inch (1.8 cm) at the top and bottom. The complete title for the book is stated on the front cover and on the first page of text. The title page states Japan in Days of Yore. IV, Part I. The title on the first page of text correctly states "Part II."
With the exception of the covers and absence of plates, this book is the same as the regular edition of the book
The Life of Miyamoto Musashi, Part II

Title Page & First Text Page



Colophon
Part IV

Identical to Colophon in Book with Color Plates