Condition. The book is in Good condition. It is ex-library with the following library marks/indicia: circular label on front cover and a stack number on the "Advertisement" page. There are ink signatures on the front cover and the title page. There are seal imprints on the title page and on the colophon. There is Japanese writing on the back cover. The first and third woodblock print plates are missing (Saigo Takamori and Kusunoki Masashige). Two of the folded text pages are severed at the fold. Internally the pages and plates are clean with only scattered light foxing.

Teicki (Teiichi) Miki:
Short Biographies of Eminent Japanese in Ancient and Modern Times, each with a characteristic illustration. The Japanese and Chinese by Miki Teicki, the English by Takahashi Kyushundo, 2 volumes, Tokyo, 8vo (7 x 10 in - 17.5 x 25,2 cm), volume 1 - Meiji 20 (1887), stiff wraps, paste on titles in English (front) and Japanese (back), folded pages (text), string tied Kangxi Binding, each volume with 10 biographies and 10 associated color woodblock plates. The biographies are in English, Japanese and Chinese. The biographies in volume 1 are: Saigo Takamori, Kato Kiyomasa, Kusunoki Masashige, Hojo Tokimume, Taira no Shigemori, Minamoto no Yoshiie, Wage no Kiyomaro, Takenouchi no Sukune, Jingu Kogu and Yamatotake no Mikoto.
While advertisements state an intent to publish ten volumes in this series, only two have been confirmed.
A slighly different version of the first two volumes has been offered by a bookseller. According to the description, the volumes have English text (no mention of Chinese & Japanese text) and the illustrations also contain Japanese (Kanji) text. These books were also published in 1887 and 1890.
Inside Title (conitinued)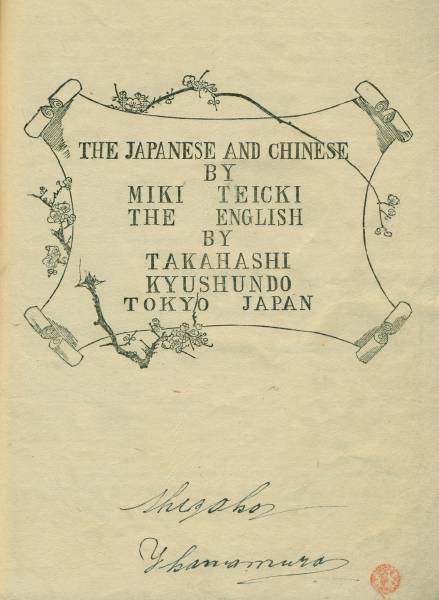 Example of English Text Page (Saigo Takamori)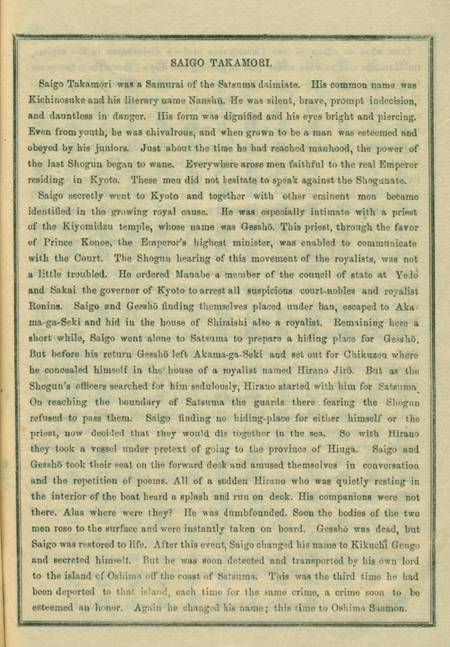 Example of Chinese Text Page (Saigo Takamori)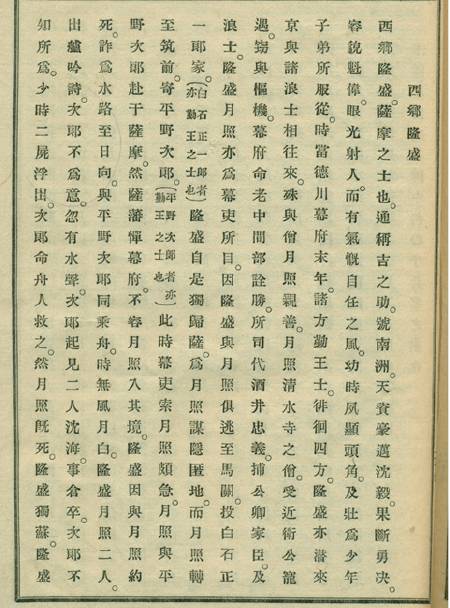 Example of Japanese Text Page (Saigo Takamori)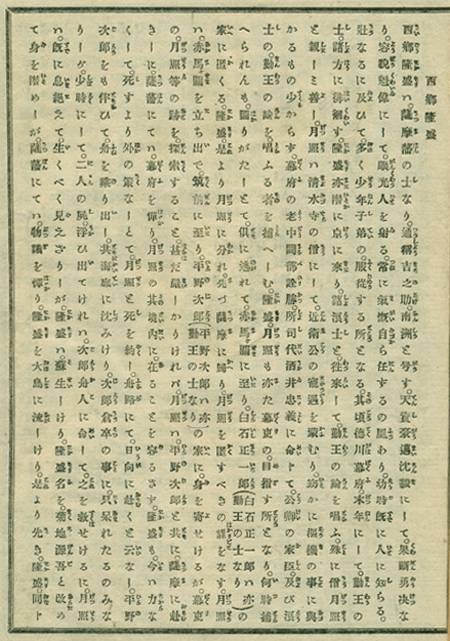 List of Biographies in Volume 1.
Saigo Takamori
Kato Kiyomasa
Kusunoki Masashige
Hojo Tokimume
Taira no Shigemori
Minamoto no Yoshiie
Wage no Kiyomaro
Takenouchi no Sukune
Jingu Kogu
Yamatotake no Mikoto

Woodbock Plates

Saigo Takamori
[no image available]

Kato Kiyomasa


Kusunoki Masashige
[no image avilable]

Hojo Tokimume


Taira no Shigemori


Minamoto no Yoshiie


Wage no Kiyomaro


Takenouchi no Sukune


Jingu Kogu


Yamatotake no Mikoto



Colophon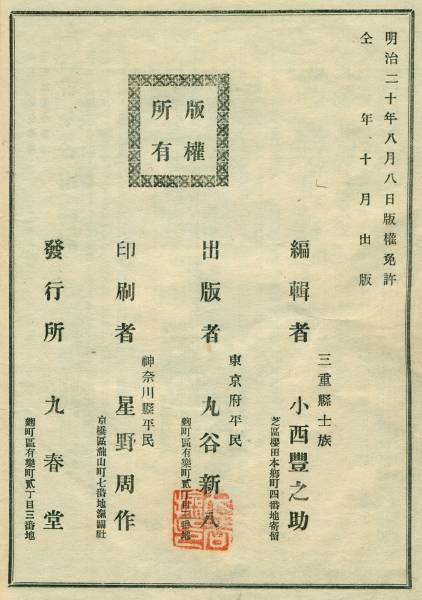 Printed: Meiji 20(1887).9.9
Published: Meiji 20(1887).10