~~ Book 1883101106 ~~
Okadaira Shell Mound at Hitachi
Being an Appendix to Memoir Vol. I., Part I.
of the Science Department, Tokio Daigaku
by Iijima & Sasaki, 1883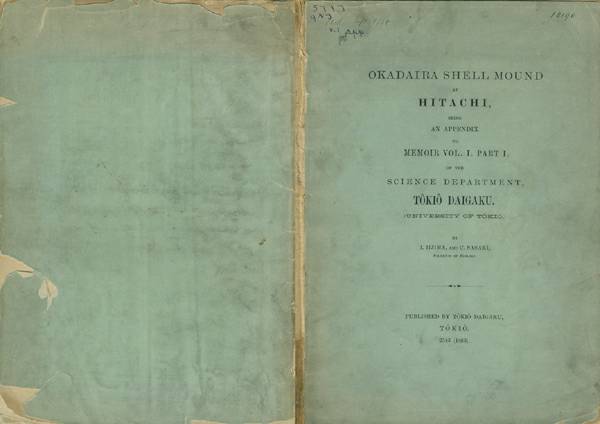 Condition. The book is in Good condition. This is a non-circulating ex-library book. The only library treatments are handwritten numbers at the top of the front cover. The front and back covers are heavily soiled and have numerous chips and rounded corners. The back cover has several large pieces missing. The spine covering is not present. The front and back free pages have corner chips and tears. The other pages are free of marks and significant tears or breaks. I would rate the internal pages as Very Good.

Iijima, I
Sasaki, C:
Okadaira Shell Mound at Hitachi, Being an Appendix to Memoir Vol. I., Part I. of the Science Department, Tokio Daigaku (University of Tokio) by I. Iijima and C. Sasaki, Students of Biology, Tokio, Published by Tokio Daigaku, 1883 (2543), large 8vo (7 3/4 x 11 1/8 in - 18 x 28.3 cm), gray card wraps, all text in English, preface dated September 1, 1882 (1 page), text (8 numbered pages), 11 black and white lithographed foldout plates, each plate preceded by a facing text page with an "Explanation of Plate." The 11 fold-out plates measure 14 1/4 x 11 1/8 in (36.2 x 28.1 cm). The plates are printed on the same thin paper as the rest of the book.
In the "Explanation of Plate" the objects illustrated on the plate are numbered (numbered "figures" assigned) and the discussion describes the items depicted. The plates contain a total of 136+ illustrations (figures) of archeological artifacts found in the Okadaira Shell Mound. Some numbered figures (136) on the plates show more than one illustration of the object.
At time different theories were evolving as to the origin of the prehistoric (stone age) Japanese people related to the artifacts found in the Okadaira site and those found in other sites such as the Omori shell mound site near Tokyo. These debates are not a part of this report. Rather, it is a technical description and depiction of the artifacts found in the Okadaira site.

Plates

Plate I,     8 figures.
Plate II,   11 figures
Plate III,  12 figures
Plate IV,    8 figures.
Plate V,    11 figures
Plate VI,   13 figures
Plate VII   17 figures.
Plate VIII, 11 figures
Plate IX,   19 figures
Plate X,    15 figures
Plate XI,   11 figures


Examples of the plates.




Plate I


Plate III

Title at Bottom on Foldout Flap

Plate IV


Plate VI


Plate VIII


Plate XI






Close-up of Lithographic Image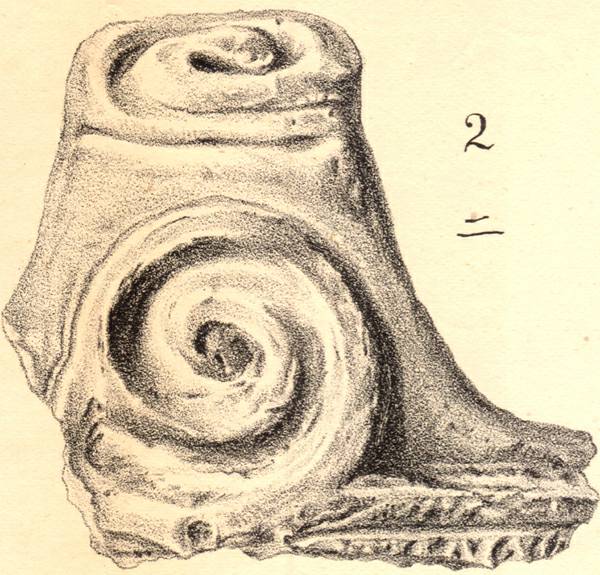 Plate IV, Figure 2 "Figure 2. Reddish, 1/2 natural size."