Eight Years in Japan
1873-1881
by Edmund Gerald Holtham, 1883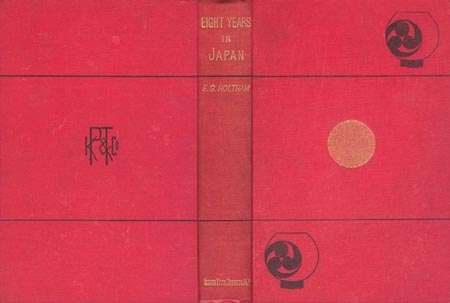 Condition. The book is in Very Good condition. The inside front and back hinges are cracked but the binding remains tight. Light foxing on edges and a few pages at the front and back. Cover has some fading and light rubbing. The fold out maps at the rear have misfolds but no tears or other faults.

---
Holtham, E.G.:
Eight Years in Japan, 1873-1881, Work, Travel, and Recreation, 1883, London, Kegan Paul, Trench & Company, large 12mo (5 x 8 in. - 14.5 x 20.5 cm), red cloth with black and gold decoration and gilt lettering on the spine, 3 foldout lithographed maps at the rear, 361 pages with an additional 47 pages of publisher's advertisements at the rear. With the Meiji restoration in 1868, Japan turned toward the West and began adapting western institutions and practices. The railway system was at the vanguard of the emerging "Victorian Japan." The Railway Bureau under the Ministry of Public works was charged with this effort. Edmund Gerald Holtham was a British civil engineer hired by the Railway Bureau to work on this project. He arrived in Japan in November 1873 and this his account of the eight years he spent in Japan. The book is a chronological blend of his work experiences and his personal travel and everyday living. The railroad line between Tokyo and Yokohama had been completed when Holtham arrived. He provides detailed accounts of the expansion of system to include Kobe to Osaka (by early 1874) and onto Kyoto (by 1876). Holtham also recounts a Westerner's view of the Great Rebellion of 1877. The book is not technically oriented. To the contrary, Holtham's focus is on the social and political aspects of his work as a civil engineer working for the Meiji government far more than the nuts an bolts of building and maintaining a railway system. He was a keen observer of Japanese life and the book records his day to day experiences and his extensive personal travels throughout Japan.

Title Page.




             CONTENTS 

CHAPTER                                                             PAGE
I       YOKOHAMA AND KOBE (1873)                                       i
II      JOURNEY UP COUNTRY                                            18
III     FIRST YEAR'S WORK - TSURUGA, SHIOTSU, AND NAGAHAMA (1874)     39
IV      SECOND YEAR'S WORK:  AKASAKA, NAGOYA (1875)                   71
V       THIRD YEAR'S WORK (1876)                                     101
VI      COMPLETION OF THE OSAKA-KIYOTO RAILWAY - THE GREAT
          REBELLION OF 1877                                          122
VII     HOLIDAY TRIP: NIKKO, THE NAKASENDO, AND ISE                  138
VIII    OSAKA AND TOKIYO (1877)                                      193
IX      TOKIYO (1877-8)                                              204
X.      TRIP TO FUJISAN AND NEIGHBOURHOOD (1878)                     223
XI.     TOKIYO (1878-9)                                              239
XII.    JOURNEY IN THE NORTH (1879)                                  261
XIII.   TOKIYO (1879-80)                                             278
XIV.    TOKIYO AND HAKONE (1880-1)                                   297
XV.     JOURNEY FROM NAGASAKI TO KOBE (1882)                         321

MAPS AT END OF THE VOLUME. CENTRAL JAPAN. NORTHERN JAPAN. SOUTHERN JAPAN.


Maps at Rear (foldout - lithographed by ""Edwa Weller Lit.").
Map 1
Central Japan "Edwa Weller Lit."
6 3/4 x 12 1/2 in - 17 x 31.5 cm - 3 folds out



Map 2
Northern Japan "Edwa Weller Lit."
6 3/4 x 15 in - 17 x 37.8 cm - 3 folds out



Map 3
Southern Japan "Edwa Weller Lit."
6 3/4 x 12 3/4 in - 17 x 32.5 cm - 3 folds out