~~ Book 1880071114f ~~
Chiushingura; or the Loyal League
A Japanese Romance
Frederick V. Dickins, New Edition, 1880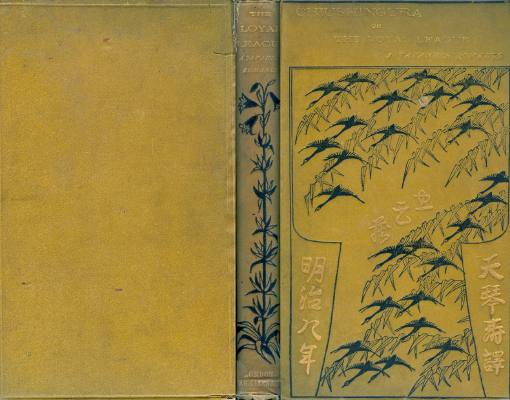 Condition. The book is in Good condition. The covers are faded, corners bumped and there is a 1 inch tear of the cloth at the top along the edge where the spine covering meets the back cover. The errata & addenda page has been clipped with the bottom 1/3 missing but with no loss of text. The next 3 pages have an indented line probably resulting when the eratta page was clipped. Internally very clean and all plates are free of faults.

Takeda Izumo (1691-1756) (author)
Dickins, Frederick V. (translator):
Chiushingura; or the Loyal League, A Japanese Romance Translated by Frederick V. Dickins ScB., of the Middle Temple, Barrister at Law. With Notes and an Appendix Containing a Metrical Version of the Ballad of Takasago and a Specimen of the Original Text in the Japanese Character. Illustrated by Numerous Engravings on Wood, Drawn and Executed by Japanese Artists, and Printed on Japanese Paper. New Edition, London, Allen & Co., Waterloo Place, 1880 (MDCCCLXXX), 8vo (6 1/2 x 10 in - 16 x 25.5 cm), yellow-green cloth with blind stamped illustrations in black and gilt on the front board and spine and gilt lettering on front board and spine, 29 aizuri-e woodblock plates, 1 black and white plate with Japanese characters, i-xii, 202 numbered pages. The woodblock prints (aizuri-e) are predominately in light to medium blue, gray, black and white. The last numbered page is followed by the plate with Japanese characters and an English transliteration. These pages are sometimes included in the page total to arrive at 204 pp. Each of the aizuri-e woodblock plates is on medium thick high quality Japanese paper containing silver type (mica) flakes. The top of each plate has Japanese text with the subject of the plate. Below the image on the plate is the English translation. Internally, the plate images have Japanese descriptive captions (occasionally 10 or more such captions). This book was initially published in Japan in 1875.

Title Page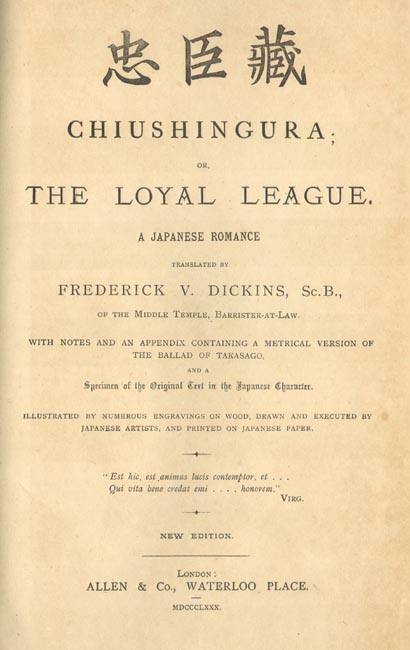 Examples of Aizuri-e Woodblock Plates