Book 1879211201
Appended Edition,
Epitome of the Ancient History of Japan
1879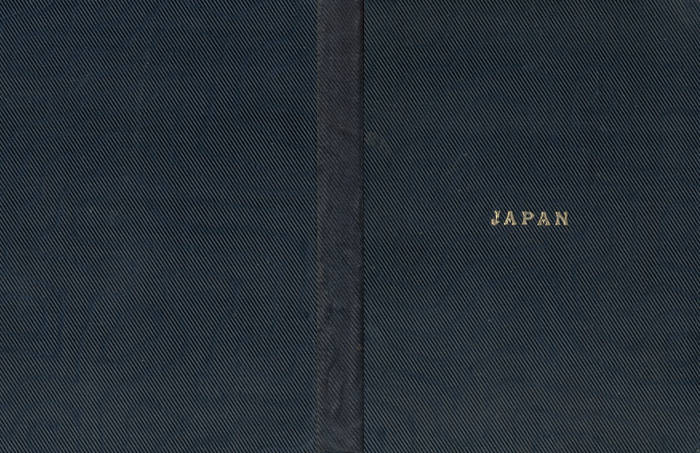 Condition. The book is in Very Good condition. The covers are free of fault except for minor wear along the edges. The binding is strong. There is no marking or writing inside except for the written notation, noted below, on the back of the last page (page 153). There is a small label with the number 1120 at the upper left inside the back cover. There are small areas of water staining throughout the book, primarily at the outer corners of the plates. None of the water stains extend into the plate image area or the text. There is minor staining and foxing throughout the book.

McLeod, N:
Appended Edition, Epitome of the Ancient History of Japan, With Illustrations of the Principal Historical Personages, taken from Ancient Pictures, Dedicated to the Rev. William Mackenzie, printed for the author at the Rising Sun Office, Nagasaki and Engraved at Osaka, Japan, 1879, flexible dark gray covers, gilt lettering ("Japan") on the front cover, small 18mo (4 x 5 1/2 in - 10.5 x 13.7 mm), 15 copper plate engravings, 153 pages.
The last page (153) ends in an incomplete sentence:
The grave of the father of Jin mu Tenno is situated in the ancient province of Henga, it is within an...
While the back of the last page is blank, the following is written in ink: "immense cave. Finis."

The "Lewchewan" (Ryukyuans) are discussed from pages 22 to 25.

This book is recorded in the World Catalogue as 153 pages and it appears the last page was not actually printed.


15 Copper Engraved Plates
Jimmu Tenno



Empress - Ancient Mode of Wearing Hair



Empress - Present Mode of Wearing Hair



Gingo Kogo



Kiyomori



Yoritomo



Yoshitzune



Heki Shigimori



Hojo



Ashikaga



Nobunaga



Tyko Sama



Iyeyasu



Hitotsubashi - Last Shogum