~~ 1877080610a ~~
Supplemental Issue to
Mittheilungen der Deutschen Gesellschaft fur
Natur- Und Volkerkunde Ostasiens in Tokio
Part 12, 1877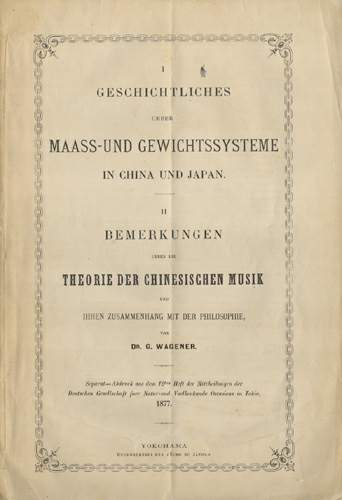 Condition. The periodical is in Good+ condition. The covers have light soiling and small creases and tears along the edges. Corners are rounded or slightly dog eared. There is a heavy vertical crease down the middle and a heavy diagonal crease at the top right corner. Both the vertical crease and the diagonal crease run throughout the issue. The fragile spine covering is in tact but has breaks or pieces missing over ca 60% of the covering area. Quite clean with no foxing or staining. The paper is supple, not brittle.

Dr. G. Wagner
Ninagawa Noritake:
I. Geschichtliches ueber Maass-Und Gewichtssysteme in China und Japan. - II. Bemerkungen ueber die Theorie der Chinesischen Musik und Ihren Zusammenhang Mit der Philosophie, von Dr. G. Wagner a supplemental issue to part 12 ("Separat-Abdruck aus dem 12ten Heft") of Mittheilungen der Deutschen Gesellschaft fur Natur- Und Volkerkunde Ostasiens in Tokio, Heft 12 (Journal of the German Society for Natural and Cultural Science of East Asia, Part 12), 1877, Yokohama, Buchdrukerei Des "Echo du Japon," 4to (9 x 13 in - 22.5 x 33 cm), paper wraps, staple bound, German text and printed in columns, 6 black and white plates, 26 pp. This supplemental issue contains an article an article on the weight and measures systems in Japan and China and an extensively illustrated article on the theory of the Chinese music and it's connection with philosophy. The latter article is illustrated with 6 plates.
This supplemental issue is not noted in the Wenckstern listing for the publication.
General comments regarding Mittheilungen der Deutschen Gesellschaft fur Natur- Und Volkerkunde Ostasiens. This periodical is a well illustrated scholarly journal covering all facets of life and culture in Meiji era Japan. The primary contributors to the publication were German scientists, scholars and academicians living in Japan at the time. You often find their works published in a similar scholarly journal, Transactions of the Asiatic Society of Japan, which began publication in 1872 in Japan. The publication was issued individually and in bound volumes. Volumes 1-6 (1873-1897) contain parts 1-60 and were issued in the 4to format. Beginning with volume 7 the format was changed to 8vo. It appears that while publication was suspended from 1916-21 and from 1946-52 the periodical was published until 1953 and perhaps later. Wenckstern contains a very detailed listing (article by article) of the contents through Volume 10 (1906). Reprints of the earlier issues were made. The issues contain numerous text illustrations, tables, maps, plans, musical scores, and plates (some fold out and in color). Part 23 (March 1881) has a well illustrated article on "Die Liu-Kiu-Insel Amami Oshima" by Dr. L. Boederlein.
Variations in titles. The publication generally carries the title Mittheilungen der Deutschen Gesellschaft fur Natur-Und Volkerkunde Ostasiens. Herausgegeben von dem Vorstande on the front cover. Sometimes "Ostasines" has an apostrophe ("Ostasien's"). From the periodicals I have examined, the "Ostasien's" variation began with Part 3, September 1873. A reprint of Part 1 dated 1890 carries the title Mittheilungen der Deutschen Gesellschaft fur Natur-Und Volkerkunde Ostasiens in Tokio."
Printers. The first part ("Erstes Heft." - Mai 1873) does not state a printer only "Yokohama." The second part (2tes Heft. - July 1873 and third part (3tes - September 1873) were printed by the Japan Mail, Yokohama ("Yokohama/Druckerei der 'Japan Mail."). Starting with part four (4tes Heft. - Januar 1874) the printer is Echo du Japon, Yokohama ("Yokohama/Druckerei der 'Echo du Japon"). At least through part 24 (1881) and probably later, Echo du Japon remained the printer. A reprint of part one in 1890 was printed by R. Meiklejohn & Co, Yokohama ("Buchdruckerei Von R. Meiklejohn & Co.").
Albumen photograph tipped in illustrations. I have confirmed two parts with tipped to page albumen photographs. These are:
Part 2, July 1873, at page 10, four tipped in albumen photographs (6.6 x 12.5 cm, each photograph). The page is titled "Ein Japanischer Globus." and the photographs show sections of a map/globe.
Part 4, January 1874, at page 3, one tipped in albumen photograph (17.3 x 12 cm). The photograph follows an article titled "Sitzung in Yokohama am 10ten Januar 1874." The image is very faded but appears to be a view looking at a bluff.
More information on early issues:

Plates (all in article on Chinese music)