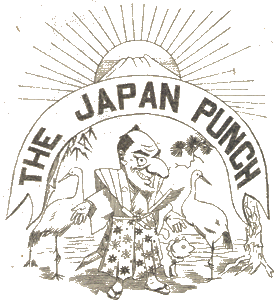 ~~ 1876051032b ~~
The Japan Punch
Charles Wirgman
October 1876

Condition. The periodical is in Very Good condition. The string ties are present but loose. The pages are clean and free of staining, foxing and toning. The paper is supple. There are a few small insect holes. Considering the transitory nature of this publication, a remarkably well preserved copy.

Wirgman, Charles:
The Japan Punch, Yokohama, no publisher stated, August 1876, folio (9 3/4+ x 14 1/4 in - 25.1 x 36 cm), string tied, woodblock printed on high quality paper, illustrated cover and 10 pages with no back cover. The month of August is handwritten rather than printed. The year, 1876, is printed. The Japan Punch is sometimes described as the first English language periodical published in Japan.

Charles Wirgman (b.1832, d.1891). Charles Wirgman arrived in Nagasaki, Japan from China in early 1861 as a correspondent for the Illustrated London News (ILN) and his sketches of Japanese scenes would be published in that periodical through early 1887. Soon after his arrival he moved to Yokohama and that is where her resided, married, worked, died and is buried. He accompanied Sir Rutherford Alcock, the British envoy to Japan, on a trip Kanagawa and Yedo in mid-1861. Wirgman had the misfortune of being a guest of the British Legation when it was attacked by Japanese assassins on the night of the July 5, 1861 in the temple of Tozenji at Shinagawa. His report of the incident in the ILN included several illustrations of the attack and included a sketch showing Japanese ronin attacking members of the legation. Wirgman was a friend of Ernest Satow and often accompanied him as he traveled throughout Japan. He was also a friend and professional associate of the famous photographer, Felice Beato
Charles Wirgman's life before and in Japan is discussed in a paper by John Clark titled "Charles Wirgman (1832-1891), recent discoveries and re-evaluations" which is published in British Library Occasional Papers II, Japanese Studies. For more information on the book in which this paper is published, click here.
A Wirgman Book. The only book that I am aware of published by Wirgman is his Sketch Book of Japan published in 1884. More information on that book can be found here.
The Japan Punch. Wirgman arrived in Japan in 1861. In the following year he began his hallmark publication, The Japan Punch. Jozef Rogala, in his book, The Genius of Mr. Punch (info here), provides important insights into the publication of The Japan Punch and reproduces many of the illustrations.
Important aspects of Wirgman's The Japan Punch include:
First Issue in May, 1862. The first issue was in May of 1862 and two more issues were published that year (June and July). The first issue had a picture of the British Mr. Punch and the Japanese Mr. Punch on the front cover. Thereafter, only the Japanese Mr. Punch appeared on the front cover.

Hiatus. From August 1862 through a portion of 1865 publication was suspended.

Last Issue in March, 1887.

Regularity. Beginning in 1865 (month not established) publication resumed on a sporadic basis but generally monthly.

Dating Issues. Prior to 1883 the year, but not the month, is on the front cover. In 1883 the year and month appear on the front cover. Occasionally the text portions of the publication contain dates and these provide some help in determining the month of publication. I have noted issues from 1876 forward with the month handwritten. The papers were not assigned whole numbers or series numbers.

Printing Method. From 1862 through 1883, the publication was woodblock printed. After that it was lithographically printed.

Number of Pages. Usually 10 or more (counting the front cover) pages per issue. All pages were printed one side only. The blank back side of the last page is the back cover.

Paper Type. The paper is a thin high quality Japanese mulberry paper with a visible laid pattern from the manufacturing process. The paper is supple/pliant and does not become brittle. The paper is thin enough that images from the page below are visible. For a high resolution image of the paper, click here.


High Quality Mulberry Paper

Page Size. The page size varies slightly among issues. The usual size is large 4to (9 1/2 x 13 3/4 in - 24 x 35.2 cm) but it varies. The largest size paper I have seen is 10 1/4 x 14 5/8 in (25.6 x 37 cm) You often see the size described as folio.

Binding Method. The paper was originally bound with a simple (flimsy) single string tie affixed through 4 holes. The individual issues are sometimes found bound into book form with the string ties removed.

Subscription Price. I have seen the subscription prices ranging for $1.00 per issue for the early issues to $2.00 per issue in later years. It was a relatively expensive periodical.

Key Characters. Wirgman's caricature in the illustrations is referred to as "The Artist." Other recurring caricatures included "Count Collodion di Policastro" (Felix Beato), "Public-Spirited Man" (William H. Smith) and "Sir Smiles" (Sir Harry Smith Parkes). The Samurai character on the front cover is a caricature of Wirgman.

Issues Documented on this Web Site.
The Japan Punch was clearly targeted at the small, but expanding, group of Westerners then residing in Japan. The Japan Punch is sometimes described as the first English language periodical published in Japan. It wasn't long before Japanese publications mimicked Wirgman's style much to the consternation of the Government. Wirgman's Japan version of Punch was in the same tradition as the British version. However, it satirized politics, society, and customs relevant to the Westerner living in Japan. The publication history of the magazine is rather murky. Wenckstern only notes, "illustrated and edited by C. Wirgman, Yokohama. -- Discontinued since the artist's death." Considering that this comment was published in 1895, it seems clear that precise information regarding the publication was not readily available, even at that time. A Japanese publisher (Yushodo Press) offers a 10 volume (3,100+ pages) reprint of the periodical described as covering the period from May 1862 through March 1887 with publication suspended from 1863-1864.
Wirgman's Art Work in General. Wirgman worked in association with Felice (Felix) Beato in hand coloring Beato's albumen photographs during the period from 1864 through 1867. Through this association in Yokohama, he also marketed his own albums of sketches, and individual watercolor and oil paintings. Dating to this association with Beato, Wirgman is especially noted for his work in hand coloring the albumen photographs in Beato's Native Types albumen photograph album published in 1868. Charles Wirgman is well known for his satirical sketch cartoons as well as real life pencil sketches and oil and watercolor paintings of Japanese scenes and characters (Japanese and Westerners in Japan). He is also noted for teaching Western style drawing and painting techniques to Japanese artists.
Toba-e Style. Some, but not the majority, of Wirgman's art reflects the then popular "Toba-e" style of Japanese art. The Toba-e genre is characterized by roughly executed figures with long skinny limbs and gaping mouths.
Illustrated London News (ILN). Wirgman served as a ILN sketch artist and reporter in Japan for over 20 years. His first ILN piece regarding Japan appeared in the August 10, 1861 issue and his work appeared regularly as "Special Artist and Correspondent" through August of 1868. Thereafter his work appeared sporadically through June of 1887. Wirgman died on February 8, 1891 in Yokohama and his obituary was published in the March 28, 1891 issue of the ILN.
The Capital of the Tycoon: A Narrative of a Three Years' Residence in Japan 1863, Sir Rutherford Alcock. This book contains 16 chromo-lithographs of Japanese people and scenes. Wirgman's work is credited ("C. Wirgman del.") as the basis for 12 of these plates. For more information on this set, click here.
All Pages
Front Cover
"The Japan Punch, Yoko.Hama, Oct. 1876"


The Wagner Festival


Prince Nikita shewing General Tchernaisff his new Ponies


Very Cool Correspondence [Fictional Letter and Reply]


The two new Jocks for the Y. Racing Association


Abdul Kerim Pacha Writing Furious Articles Against Tchernaisff Olimpics and Nikita


Painful Parting Scene lately witnessed at the Hatoba


The Imperial Japanese Marines, or sad fate of the ebautiful castle built with such care and patience


Athletic Sports. Tompkins Winneth the Purse. He rejoiceth thereat.


The ?? ?? of the Y.R.C Race Lotteries are shown in the Fearful Combat at Midnight between Hangish and Horsa


Latest Telegrams. Prince Nikita has returned from China with five Tartar ponies.


No back cover