Her Imperial Majesty, Haruko
Empress of Japan
This is a sepia tone albumen photograph measuring (image area) 2 1/8 x 3 1/2 in - 54 x 89 mm. This photograph was probably cut from a carte de visite (CDV). It measures overall 64 x 92 mm and a typical CDV would be approximately 60+ x 100+ mm. The width is perhaps uncut but the top and bottom have been cut. Normally the frames around the Empress extend across the top and bottom and are joined by an arch or curved line. I date this image to ca 1872.
Condition. The condition of the actual albumen print is Very Good. It is very clean. The CDV mount has been trimmed unevenly at the top and bottom and perhaps slightly at the side.

Images of the Meiji Emperor and Empress.
I believe that this image of the Empress was taken by Kuichi Uchida and represents a very early and scarce photographic image of the Empress. Kuichi Uchida (1844-1875) was the first photographer allowed to photograph the Meiji Emperor and Empress. These were considered "Official" photographs. He took these photographs in the 1871~1873 period. While I have not been able to confirm the assertion, it has been stated that these images saw very restricted distribution because of a general prohibition against viewing the Emperor's face. It is established that in 1874, the mayor of Tokyo Prefecture issued an ordinance which prohibited the sale and personal possession of the Imperial portrait. Apparently the Emperor was not photographed again until 1889. The later photographs became very popular and received widespread publication and distribution. Some believe that unauthorized copies of the "Official" photographs were distributed through the years, possibly by Baron Raimund von Stillfried und Ratenitz. Whether the early images of the Emperor and Empress by Uchida were restricted in publication as a mater of deliberate policy is an open question. The fact remains that original photographic reproductions of these first images (pre-1889), such as this, are scarce.

A variant of this photograph was published in the following book in 1876:
Black, John Reddie: The Far East: Monthly Journal, Illustrated with Photographs New Series, Volume 1 (Jul 1876 - Dec 1876), Shanghai, "Printed for the Proprietor, at the Far East Printing Office, 18 Nanking Road," Published Simultaneously in Tokio, Japan; Shanghai, China; and Hongkong, 4to (8 5/8 x 10 7/8 in - 22 x 27 cm), red cloth with gilt decoration and lettering on front and spine, 6 monthly issues bound into a book, two page introduction (i-ii), 37 pages of plates with 42 sepia tone albumen photographs tipped in, 152 numbered pages of text. For more information on this book, click here.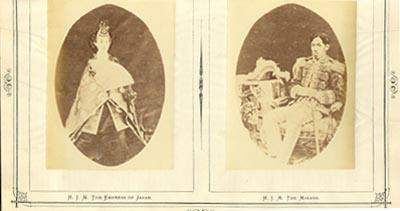 This same photograph, with hand coloring, was published in 1882 in this book:
Van Buren, Thomas B.:
Labor in Japan - together with - Pottery and Porcelain Industries of Japan, Yokohama, Japan, Printed at the Japan Gazette Office, 1882, 8vo (6 1/4 x 9 in - 15.7 x 23.3 cm), 59 pp + 10 pp. Contains eleven (11) hand colored albumen photographs (see below). Prepared by Thomas B. Van Buren, the U.S. Consul-General in Japan. This book contains two reports which were originally printed in the Reports of the Consuls of the United States, No. 2, November, 1880, published by the Department of State. The reports as published by the US Government have been slightly modified (corrected) and supplemented with eleven (11) hand colored albumen photographs interspersed in the text. For more information on this book, click here.