No. 9 Girls (Brothel)
Perhaps Kusakabe Kimbei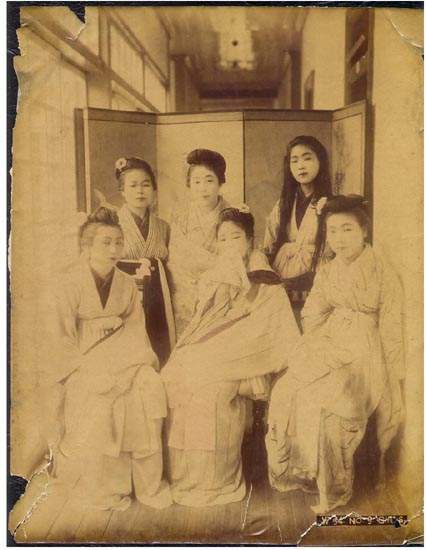 This is a sepia tone albumen photograph measuring 8 1/2 x 11 in. This photograph is captioned "W94 No. 9 Girls" and I believe that these "Girls" are prostitutes in the Shimpuro Brothel, Yokohama (reason below). The photograpah would probably date to the early 1890s.
A photograph with the caption "587. No. 9, Yokohama," has been documented (attributed to Kusakabe Kimbei). That photograph depicts the exterior of a brothel building with no people in the image. That photograph ("587") has been further identified as the Shimpuro Brothel in Yokohama.
I believe this is a rather scarce item and not the type of photograph the a typical tourist in Japan would purchase to take home and share with the family and friends.
Condition. The condition is Poor. There are several large pieces missing around the edges. The bottom right corner, with the captioning, is severed but present. Despite the poor condition around the edges, the central portion of the image is sound and in Very Good condition.