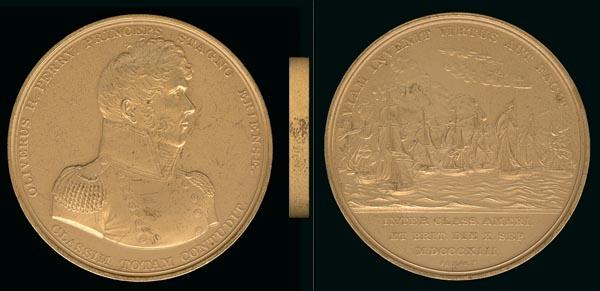 Very Good Condition
Description:
Obverse has bust of Perry facing right surrounded by "Oliverus H. Perry Princeps Stagno Eriense." ~ "Classim Totam Contudit".

Reverse depicts a sea battle scene with inscriptions reading:
"Viam Invenit Virtus Aut Facit
Inter Class. Ameri.
Et Brit Die X. Sep.
MDCCCXIII."
(Valor finds a way. Between the Fleets of America and Britain September 10, 1813.)

Engraver's Name.
Original - "Furst F." under bust (obverse) and at bottom (reverse).
Restrike - "Furst. F." only at bottom (reverse)

Metal/Size: 65 mm.
This medal is listed in Medals of the United States Mint, The First Century, 1792-1892 by R. W. Julian, edited by N. Neil Harris, 1977. It is listed as a "Navy Medal" and assigned the number NA-17. The catalogue listing notes that the original dies, completed in mid-summer of 1818, were broken in 1866 and were replaced in 1869 with "Furst" omitted on the reverse. The catalogue also notes the bust of Commodore Perry in the new die was inferior to the original. Mintage quantities are not stated in the Julian catalogue.
These metals are very hard to date. Many medals, this one included, have been produced in recent years and are marketed by the mint as of today. The modern medals are referred to as "late bronze" or "yellow bronze."
Condition. The medal is in Very Good condition. The luster is gone and most of the surface coating is worn off to varying degrees.
Price: $55.00 (Very Good Condition)

For more general information on this medal, click here.

To see the medal in honor of Commodore M.C. Perry, click here.