Ships of Commodore Perry's Squadron
Second Landing in Japan
March 8, 1854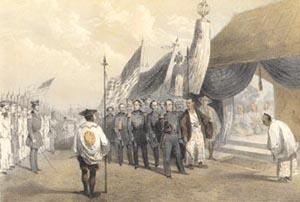 Commodore Perry Proceeding to the Meeting
with the Japanese Commissioners, March 8, 1954

During the second voyage to Japan, Perry's squadron consisted of nine ships. However, the ships were not always all present at the same time. A scene frequently depicted in art/illustrations showing the squadron at this time is of the formal/ceremonial "second landing" on March 8, 1854. At this time eight ships were assembled in the "American Anchorage" in Yokohama Bay. The ships were:
Mississippi
Susquehanna
Powhatan (Flagship)
Lexington
Macedonian
Vandalia
Southampton
Saratoga
The Supply was not with the squadron on the 8th of March.

The Narrative is somewhat confusing on this point. It infers that all nine ships were present. In discussing the situation immediately prior to the 8th of March the Narrative states:
At the position in front of Yoku-hama there were just sufficient room to anchor in a line of battle the whole Squadron; the guns of the several ships commanding an extent of shore equal to their entire range. It was in this position that the Commodore had placed his nine ships--the steam frigates, the Powhatan, which was the flag-ship, the Susquehanna, and the Mississippi, and the sailing ships, the Macedonian, the Vandalia, the Saratoga, the Southampton, the Lexington, and the Supply, the latter having subsequently joined the squadron.* (Narrative, Volume 1, page 344)
The footnote regarding the Supply points out that it joined the squadron on the 19th of March and that clears up the ambiguity. To see a cover delivered to a member of the Expedition via the Supply on March 19, click here.

Wilhelm Heine, an Expedition artist, painted a panorama of the second landing. It served as the basis for a large size lithograph that was published by Eliphalet M. Brown, Jr. in 1855. The lithograph was titled "Landing of Commodore Perry, officers and men of the Squadron, to meet the Imperial Commissioners at Yoku-Hama, Japan, March 8th 1854." A copy of the lithograph is on-line at the University of Virginia Library web site. The painting/lithograph shows eight American ships in the harbor and the Japanese ceremonial barge. To see this item, click here. For more information on the folio of six (6) large lithographs published by E. Brown in 1855, click here.