Illustrated London News

May 7, 1853
US Expedition to Japan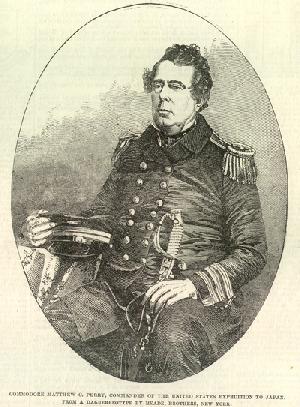 "Commodore Matthew C. Perry, Commander of the
United States Expedition to Japan, From a
Daguerreotype by Meade Brothers, New York."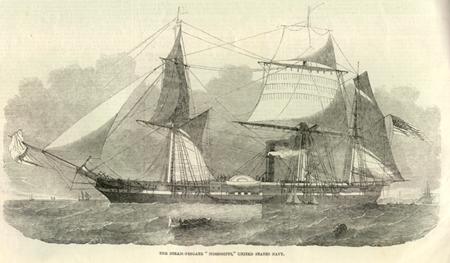 "The Steam-Frigate 'Mississippi,' United States Navy."
(click on the picture for an expanded view)

Illustrated London News, London, May 7, 1853, No. 620, Volume XXIL, 24 pages (pages 338-360) with an 8 page supplement in addition to the normal 16 pages).
Article on the Expedition to Japan. On page 344 there is a one page article on the Perry Expedition to Japan. The article has two illustrations, Commodore Perry (1/6 page) and the Steam Frigate Mississippi (1/3 page). The article outlines the ships of the squadron and the mission. Concerning the mission, the article states:
So the expedition goes to 'coerce the Government of Japan into civilisation,' and if she will not consent to negotiate with a nation whose subjects she has treated with barbarity, she is to be taught a lesson of humanity, and 'be made to wheel into the ranks of civilised empires.'

The article comments:
The opening of Japan has become a necessity, which is recognised in the commercial adventure of all Christian nations, and by every owner of an American whale-ship, and every voyager between California and China.

In addition to the composition and mission of the expedition, the article has a short biography of Commodore Perry. To see the entire article, click here.

For general information on Gleason's and the Illustrated London News, follow the links below: