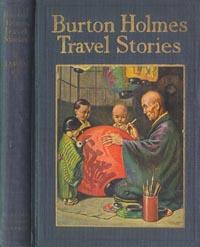 To purchase this book on-line, click here.
Tietjens, Eunice
Wheeler, William (editor)
Holmes, Burton (editor):
Japan, Korea and Formosa, Burton Holmes Travel Series, A Series of Informational Silent Readers, Chicago, Wheeler Publishing Company, 1924, dark blue cloth boards, front board with guilt title and enlaid picture, back board with embossed profile, title on spine in gold guilt, end papers are maps, large 12mo (5 1/2 x 7 3/4 in - 14 x 19 cm), 404 pp. The Burton series was intended provide "upper elementary grades" supplemental information in the study of geography. This book is not a numbered book in a series set. It is a stand-alone volume on Japan. The sections on Korea and Formosa are very short (less than 1/10 of the book). This book is well illustrated with 145+ black and white photographic plates. Of these illustrations, 66 are full page plates. I have seen this book listed as having a first printing of 1925 and described very similar to this. It could be that this book of 1924 is the first printing.
Chapters.
The Story of Japan
The Islands of Great Japan
Yokohama, the Door to Japan
Jinrikishas
Ironing Without Irons
The Way of the Buddha
Cherry Blossoms
Off the Beaten Path
From Cocoon to Kimono
Mount Fuji
Living in a Doll House
Children of Japan
Bamboo--a Friend Indeed
How They Dress in Japan
Shopping Manners
The Three Sights
The Human Ants at Nagasaki
Patient Peasants
Manners--a Fine Art
The Huge Wrestlers of Japan
The Boy's Festival
The Wonderful City of Kyoto
Strange Food
Hotels and Inns
Child Actors of the Matsuri
Growing Rice
Osaka--the Industrial City
Older Sisters
Feudal Castles
The Hundred Holly Places
The Army and Navy
Lovers and Flowers
Children's Games
A Vanishing Race
Writing with a Brush
Accomplished Persons
The Sacred Shrines of Nikko
Treasures of the Sea
Honorably Wet Weather
The Son of Heaven
The Temple Bells in Japan
Skilful Brown Fingers
Tiny Gardens
Hot Mineral Baths [the obligatory bath house scene]
If It Must Be So
Korea--The Land of Hats
Formosa, the Beautiful

Illustrations - full page plates* (66 in total).
Here are three examples of the plates.
Mt Fuji

page 109


Huge Wrestlers (Sumo)

page 223


Korea

page 375

Illustrations - text plates* (80 in total). Most text illustrations are full page width and 1/4 to 1/3 page tall. Some illustrations contain more than one photograph but most are a single photograph).

All illustrations (full plate and text) are black and white photographs. The back of the plates continues with text.