~~ A Residence at Nagasaki and Hakodate
in 1859-1860 ~~
C. Pemberton Hodgson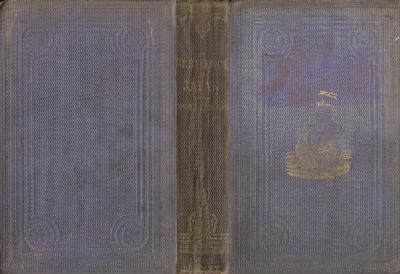 Hodgson, C. Pemberton
Hooker, W.J. (botanical catalogue):
A Residence at Nagasaki and Hakodate in 1859-1860 With an Account of Japan Generally With a Series of Letters on Japan by His Wife, London, Richard Bentley, printed by Spottiswoode and Co, 1861, 12mo (5 1/4 x 7 3/4 in - 12.7 x 19.6 cm), blue blind stamped cloth with gilt illustration on front cover and gilt decoration and lettering on spine, tissue guard protected chromolithograph (with handcoloring) frontispiece, 2 black and white woodcut plates showing Japanese coins, 5 black and white woodcut text illustrations, 350 pp plus 2 pp of advertisements. An early account of Japan by the British Counsel at Nagasaki and later Hakodate. The book covers the author's tour as the British counsel in the two newly opened treaty port cities and a full range of topics to include four trips away from the treaty ports into the interior of Japan, priests and religion, the temporal government of Japan, Japanese governors, the city government of Hakodate, the relation of Hakodate and the Russians, the Aino, Japanese homes, Japanese coins and her natural history and resources. Two letters from the author's wife to her mother are also included. Pages 327-350 contain a catalogue of plants, ferns, fungi, musci and algae (1600+) of Japan. This listing was prepared primarily by Mr. J.B. Black, curator of the Herbarium at Kew, and submitted to the author by Sir W. J. Hooker. The list includes newly recorded finds of moss in the Loo Choo Islands. A important record of Japan during this very dangerous transitional period. Hodgson was a keen observer of Japanese society, culture, and history and was in a position to observe it from the perspective of important British diplomatic posts. This book is one of the early and key Western language books spawned by the opening of Japan.
Christopher Pemberton Hodgson was born in 1821 at Hertfordshire, England and died in 1865 at Hokodate, Hokkaido, Japan. He was educated at Hodgson was educated at Eton and Cambridge.

Table of Contents

INTRODUCTION                                     xiii
I.      Nagasaki                                    1
II.     Interviews with the Governor of Nagasaki   18
III.    First Excursion into the Interior          39
         Second Excursion                          49
         Third Excursion                           55
         Fourth Excursion                          61
IV.     Nagasaki to Yedo and Hakodate              73
V.      Letters of Mrs. Hodgson to her Mother      99
VI.     Spiritual Government and Priests          128
VII.    Temporal Government of the Japanese       160 
VIII.   Japanese Princes and Daimios              171
IX.     Japanese Governors                        191
X.      Japanese Doctors                          219
XL      Municipal Council of Hakodate             227 
XII.    Japanese Houses                           234
XIII.   A few Words on Japanese Money             293
XIV.    Political  Importance of Hakodate
        Russian                                   300
XV.     Natural History, Metals, Rocks, 
        Flowers, Birds, other Products, &c.       310
        
        Catalogue of Japan Plants,
        systematically arranged
        By Sir William Hooker, Bart.              327


ILLUSTRATIONS.

Japanese Governor, with his Retinue               282
A Tea-Garden Maid-servant preparing Tea           286
Japanese Girl Walking                             287
Japanese Girl Sitting                             287
Japanese Officer                                  290
Japanese Money                               297, 298
   


Frontispiece



Illustrations - Full Plates (Woodcut engravings):


Illustrations - Text Illustrations (Woodcut engravings):

Japanese Governor, with his Retinue

Page 282

A Tea-Garden Maid-Servant Preparing Tea

Page 286

Japanese Girl Walking & Sitting (2)

Page 287

Japanese Officer

Page 290