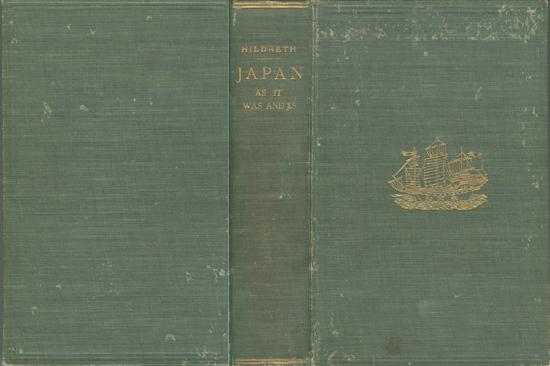 To purchase this book on-line, click here.

Condition. The book is in Good condition. The covers have some wear on the boards and the edges have wear. The corners are slightly bumped and worn. The head and foot of the spine have very light softening. The inner front hinge is cracking and this give some looseness to the first 1/4 of the book. The pages are brownish (not brittle however) with some light foxing and toning. Approximately 30 pages in the middle are dinged (pushed in) at the bottom corner but there are no tears. This book has the manuscript number "254" of the 500 copies printed in Tokyo. There is evidence of removal of a book plate on the inside front board and a pencil price notation.

Hildreth, Richard
Murakawa, K. (editor):
Japan as It Was and Is, Sanshusha & Kandan, Tokyo, 1902, 8vo (6 1/4 x 9 in - 15.5 x 22.7 cm; Tokyo edition), 611 pp, green cloth with a gilt title on spine and ship on front board, foldout map of Japan as frontispiece. Edited with supplementary notes by K. Murakawa. The book was also printed in Boston by Phillip, Sampson & Co. The Tokyo edition states that 500 copies were printed and each book has a manuscript notion of it's number between 1-500. The Tokyo printing appears to be the scarcer of the two printings.
The book traces European contact with Japan from the 13th century through to the 1850s and includes descriptions of various aspects of life in Japan during the mid-19th century. Hildreth was in Japan less than 10 years after Perry. The book is a useful history of Japan from the earliest European contact through Perry. The 1st edition was published by Sampson in 1855.