A Tinted Engraving from the 1863 book by Wilhelm Heine, Le Japon.
Snowy-sound (dêtroit de la niege) au dêtroit de Magellan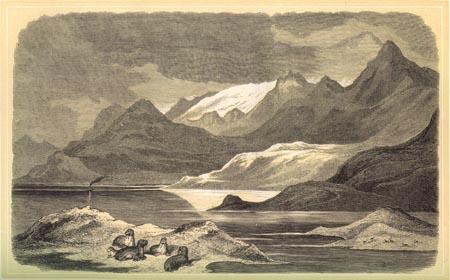 Plate/Page Size: 6 1/4 x 9 3/4 in (15.6 x 24.6 cm)
Image Area Size (approximate): 5 3/8 x 8 5/8 (13.6 x 21.9)
One of 11 full page tinted engravings on China paper from the 1863 book by Wilhelm Heine.
Heine, William (Wilhelm):
Le Japon. Voyage Autour Du Monde. Expédition du Commodore Perry, pendant les années 1853, 1854 et 1855. Faite d'après les ordres du gouvernement des États-Unis, ahead of the title: Voyage Autor du Monde, Bruxelles, 1863, large 8vo (6 3/4 x 10 in), frontispiece (tinted engraving on China paper). Two volumes bound into one with 304 pp + 5 full page tinted engravings on China paper and 315 pp + 5 full page tinted engravings on China paper. This is a translation from German into French by A. Rolland. Volume 1 covers the expedition from the departure to the first visit to Japan to deliver the President's letter to the Emperor. Volume 2 covers the return to Japan for the answer and then the return to the United States via the Hawaii. The set contains 11 full page tinted engravings (from Heine's paintings) on China paper with the following general subjects: Frontispiece, 1 Canton, 4 Liou-Kou (Okinawa), 3 Japan, 1 Hawaii and 1 Straits of Magellen).

---
This is no similar lithorgaph or illustration in the Narrative of the Perry Expedition to Japan. The Narrative essentially stopped after the visit to Hakodata. Heine returned on the Mississippi which departed Hong Kong (departed September, 1854) bound for New York City (arrived April, 1855) and took the Pacific route with calls at Shimoda, the Sandwich Islands (Hawaii), California, Panama, Valparaiso, and the island of Juan Frenandez. This is a drawing of Snowy-sound in the Straits of Magellan.
---

The differences between tinted engravings and lithographs are explained here.
For More Information on this Heine book, click here.
For Detailed Information on other Heine books, click here.
For General Information on Wilhelm Heine, click here.