Heine, Wilhelm (unstated however):
A Dinner Party in High Life, an article published in the Vermont Watchman and State Journal, March 31, 1854, Volume XLVIII, No. 18, Whole No. 2476. The article spans approximately 3/4 of a column on the front page of the paper (2 1/4 x 13 in). This article contains a quoted account of a dinner given by the Regent of Loo Choo for officers of Perry's Expedition to Japan. The name of the person quoted is not stated, only that he is "A German who accompanied...." the expedition. The would be Wilhelm Heine who was the official artist for the expedition. Heine was an artist and writer and subsequently published a book in Germany about the expedition. The quoted portion of the article was "...now in the course of publication in the Aregsburg Gazette...."

The author describes the elaborate party that the Regent of Loo Choo hosted for the members of the expedition. Most of the article centers on the food which he found "most delicious" and he particularly liked the "dog meat" and confessed that "...I have never eaten more agreeable or more succulent meat...." The writer claims to have consumed 15 thimble size cups of "Jucky" (Sake) - a drink made from rice - and he found it not to be intoxicating. Heine must have had quite a tolerance for alcohol.

The interesting aspect of this article is the fact that it actually made it to publication. Commodore Perry had banned all reports such as this by members of the expedition and he did a very good job enforcing the ban.

The basic newspaper is 4 pages long. It is one large sheet printed front and back and folded in the middle. Even folded, it is in a very large format (19 x 24 in). Quite often the papers have been removed from bound volumes so the left fold will show evidence of tearing etc that is typical of this type of extracted material. Horizontal fold(s) are often typical on this material.

The dinner with the Regent of Loo Choo took place in Naha on June 6, 1853. That is the day Perry marched on Shuri castle and was reluctantly received by the Regent. After a brief reception in the castle, the party adjourned to the Regent's quarters where the party/dinner occurred. The Narrative of the expedition has a lithograph depicting the dinner. It is titled "Dinner at The Regents Lew Chew."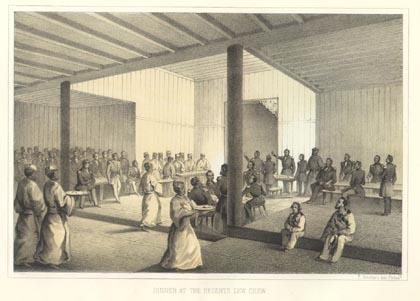 This lithograph is generally in stock. If purchased with this item, take a 10% discount. To see if the lithograph is in stock, visit this page and check for item 191.

While Heine was the artist for most of the lithographs in the Narrative, this one is not attributed to him. Perhaps he imbibed a little too much "Jucky" to perform his official duties and the artist.
For information on the Expedition's official artist, Wilhelm Heine, click here