~~ Book Published by T. Hasegawa ~~
Hair-Pin Calendar for 1906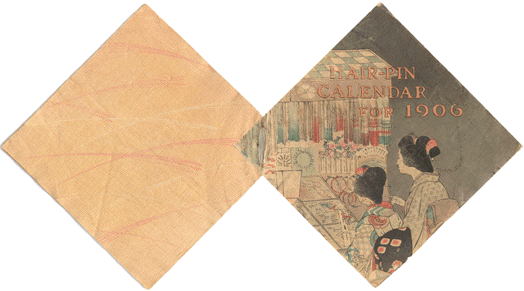 Hasegawa, T. (Takejiro)
Hair-Pin Calendar for 1906, square 16mo (5 3/8 x 5 3/8 in - 13.8 x 13.8 cm), unusual format (square) for a Hasegawa book, calendar published in a book form, crepe paper, single silk tie, 8 folded pages, 16 pages total including covers. While the book is square, it is printed and tied to be read in a diamond format (cocked 45 degrees up and tied in the lower left corner). Because of the format, the folded (unsevered) edge on each page is the upper right edge.
The first page is an introduction. The next 12 pages each contain a one month calendar and woodblock illustrations applicable to that month and the associated hair-pin. The colophon is on the inside of the back cover.
Hair-pins discussed and illustrated:
January - "brightest, gayest she can find"
February -"plum-blossom hairpins"
March - "shell hairpins"
April - "cherry-blossom hairpins"
May - "wisteria hairpins"
June - "iris hairpins"
July - "umbrella hairpins"
August - "morning-glory hairpins"
September - "Seven Autumn Flower hairpins"
October -"chrysanthemum hairpins"
November - "maple-leaf hairpins"
December - "novel hairpins"
For more information on T. Hasegawa, click here.
All Pages








Colophon (inside back cover)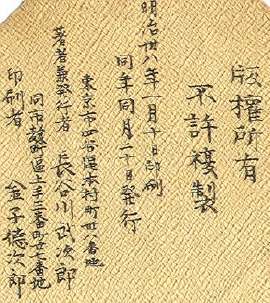 Printed: Meiji 38 (1905).1.10
Published: Meiji 38 (1905).1.20
Address: 38 Honmura-cho, Yotsuya-ku, Tokyo