~~ Book 1949160105 ~~
Life Scenes of Japan
Text by Leo Marescaux
2nd Edition, 1949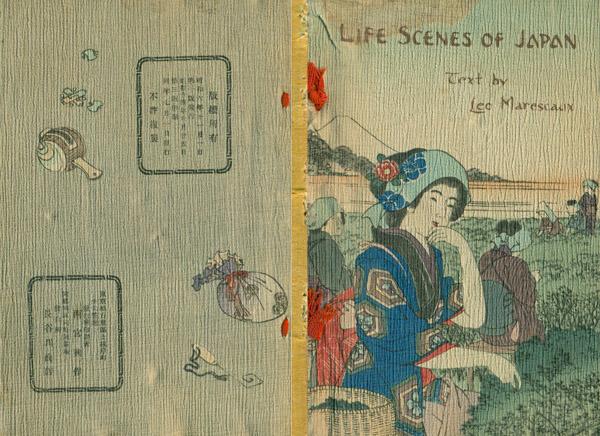 Condition. The book is in Good+ condition. There is a waterstained area measuring approximately 6 x 2 cm at the top left (when viewed from the front cover). The area is visible on the front cover, the next 2 folded pages and the outside of the back cover. The spine covering is complete but has several tears. None of the pages are severed at the folded edge. There is a partially visible ink signature on the page opposite the inside front cover.

Y. Nishinomiya
Marescaux, Leo:
Life Scenes of Japan, Text by Leo Marescaux, Y. Nishinomiya, Tokyo (17 Kami Negishi-cho), 2nd edition, Showa 34 (1949), spine covered, red silk stab ties, 4 x 6 in - 10.1 x 15.2 cm, 14 folded crepe paper pages (including the covers), 28 pages total. Each month is illustrated and discussed on a facing page. This book has the months of the year but not a day by day calendar. The 1931 first printing carries an imprint reading "T. Hasegawa" as opposed to the Y. Nishinomiya imprint.
The subjects of the woodblocks are:
Jan. - New Year's Day
Feb. - The Festival of the Fox
Mar. - The Festival of Dolls
Apr. - Cherry-Blossoms at Mukojima
May - The Festival of Boys
June - Iris at Horikiri
July - The Festival of Lanterns
Aug. - Summer in Kyoto
Sep. - The Festival of Chrysanthemums
Oct. - The Festival of "Ebisu"
Nov. - Autumn at Momiji-Yama
Dec. - Preparing for New Year
For more information on T. Hasegawa, click here.
Contents Page



>

Colophon, 2nd Edition, 1949 (back cover)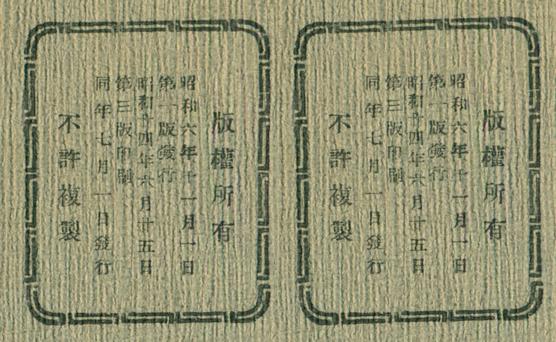 1st Edition Published: Showa 6 (1931).11.1
2nst Edition: Showa 24 (1949).6.25
Address: 17 Kami Negishi-cho