~~ Book 901190801 ~~
Monthly Changes of Japanese Street Scenes
Calendar for 1902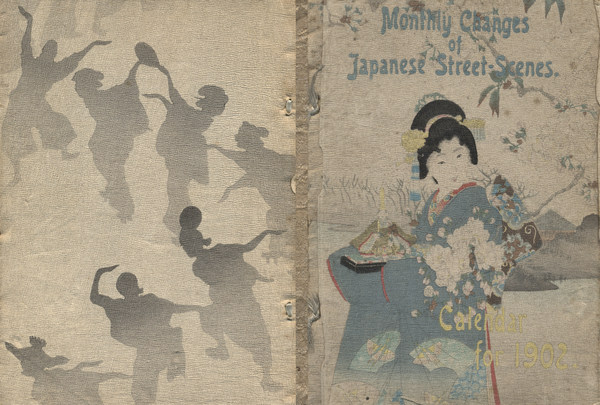 Condition. The book is in Very Good condition. The front cover has light soiling and scattered foxing. The right edge of the front cover is slightly rolled over. The cover adjacent to the spine is slightly folded over also. There is creasing along the top and bottom edges of the front cover. The back cover and the internal pages are clean and fault free. The spine covering is solid. There are no tears or breaks at the folded edges.

Hasegawa, T. (Takejiro)
Monthly Changes of Japanese Street Scenes, Calendar for 1902, Tokyo (10 Hiyoshi-cho, Kyobashi-ku), 12mo (5 1/2 x 7 1/2 in - 14 x 19.2 cm), large size for a Hasegawa book, calendar published in a book form, 14 folded crepe paper pages, 28 pages total including covers. The page inside the front cover is blank. The next page contains the title and a listing by month and subject of the woodblock prints for the 12 monthly calendars. Each calendar woodblock print is viewed as a continuous image from the left hand side of page across to the adjoining right hand side page. The subjects of the woodblocks are:
January - "New Year's Day Snowing"
February - "Inari Festival"
March - "The Vernal Equinox"
April - "Cherry Blossoms"
May - "Wistaria in Bloom"
June - "The Rainy Season"
July - "The River Opening"
August - "Lotus Flowers"
September - "The Moonlight"
October - "Chrysanthemum Feast"
November - "Autumn Tints"
December - "The Night Market"
In his discussion of T. Hasegawa publications, Frederic A. Sharf notes a calendar book published in 1899 titled Street Scenes Calendar and gives the year for the calendar as 1901. Apparently Hasegawa printed calendars for 1901, 1902, 1903 and 1905 (probably other years also) and used the same general theme (street scenes).
For more information on T. Hasegawa, click here.
All Pages





























Close up of the Colophon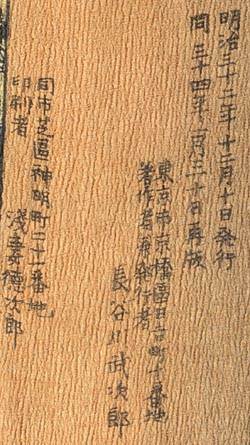 1st column from right: Meiji 32 (1899).12.10
2nd column from right: Meiji 34 (1901).1.30
3rd column from right: 10 Hiyoshi-cho, Kyobashi-ku, Tokyo (address)