~~ Book 1901090616 ~~
Fables et Legendes du Japon
par Claudius Ferrand, 1901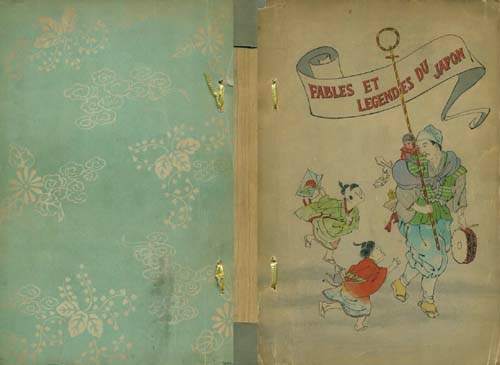 Condition. The book is in Good condition. The ribbon ties and spine have been replaced. There is a large torn area on the back cover in the area adjacent to the spine. There is scattered light to heavey foxing throughout.

Ferrand, Claudius:
Fables et Legendes du Japon par Claudius Ferrand, Deuxime (Second) Edition, Tous Droits Reserves, Tokio, Imprimerie de la Tsukiji Type Foundry", Paris Chez M. L'Abbe P. Ferrand, Meiji 34 (1901), small 8vo (6 x 8 3/4 in - 15 x 22.5 cm), plain paper, text in folded sheets, color woodblock plates (4) on single sheets, text in French, spine covered at head and foot for ca 1 in, ribbon ties, title page in black, frontispiece (color woodblock) with title, 155 numbered pages (78 folded pages), three internal woodblock plates on single sheets. The first page of each of the thirteen sections has a black and white woodcut decorative title. Each page of text has a black and white woodcut illustration.
The thirteen sections are:
Ourashima Taro et la deesse de l'ocean
La petite voleuse
La vengeance du lievre
Le monstre Yatama
L'unique parapluie
Les huit chevreaux
Las aventures de Benke
Le vase de Kompeito
Les Rats au temple
Les fraies de Decembre
Le moineau sans langue
Les deux loupes
Unruse de Jiro

The 3 Single Page Color Woodblock Plates.

Vue de Miyajima.


Le 1er de l'an au Japon.


Cortege d'un diamyo, avant la Restauration.




Colophon (inside back cover)

Meiji 34 (1901)