~~ Book 1896130423 ~~
Japanese Fairy Tale No. 22
Flowers of Remembrance and Forgetfulness
Told in English by Mrs. T. H. James, c1896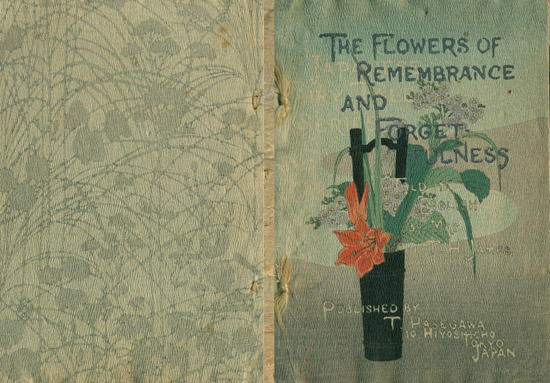 Condition. The book is in Very Good condition. The spine covering is complete and there are not tears or breaks to the folded edges. There is scattered light foxing to the covers. On the first page of the second folded page there is pencil writing ("215") in the upper right corner. On the front cover "Japanese Fairy Tale Series" is very faint and the number is not visible.

Hasegawa, T. (Takejiro)
James, Mrs. T.H. (translator):
Flowers of Remembrance and Forgetfulness, No. 22, Japanese Fairy Tale Series (English), Tokyo (10 Hiyoshicho), c1896, 12mo (5 1/2 x 7 1/2 in - 13.8 x 19.2 cm), large size for a Hasegawa book, silk stab ties, 11 folded crepe paper pages, 22 pages total including covers. There is no colophon in the book.
The "Japanese Fairy Tale Series No. 22" title on the front cover of this book is printed in white and very faint. Click here to see a front cover where that title is much clearer.
Dating this book. Since there is no colophon, the book is dated based upon the address of 10 Hiyoshicho. Other printings of this book have been reported.
Day-Lily, the flower of forgetfulness.
Aster, sacred flower of remembrance.
Two sons mourned the death of there beloved father and both visited his grave for more than a year. Eventually, the older son's job and "amusements and interests" prevented him from visiting the grave and he planted the day-lily, the flower of forgetfulness, in his stead. The younger son was saddened and angry with this brother and continued to visit the grave. He planted the aster, the sacred flower of remembrance, at the grave. For his love and faithfulness, the younger son was rewarded by his father's protecting spirit and "...became fortunate, rich and happy."
For more information on T. Hasegawa, click here.
All Pages